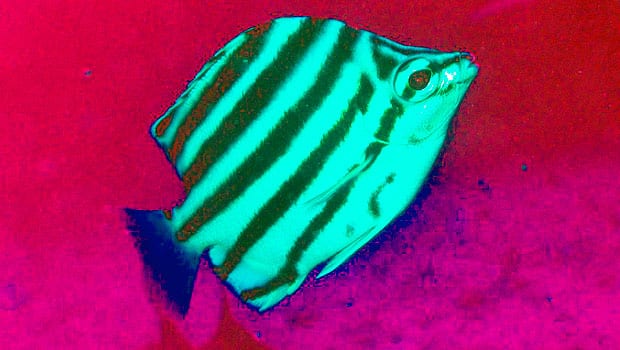 Ichthyoallyeinotoxism is a complex word for a very simple act: Eating psychedelic fish to get higher than God. Ready to give it a try?
Out of stash? If you live near a coastal area, you may be in luck, because DMT/LSD mimicking fish may be lurking nearby, ready to blow your mind with the power of Ichthyoallyeinotoxism.
"Ichthyoallyeinotoxism" is the official name for getting high on hallucinogenic fish, of which there are many, mostly in tropical areas. They're often collectively called "dream fish," and they likely turn trippy from the algae they eat.
Species incude Kyphosus fuscus, Kyphosus cinerascens, Kyphosus vaigiensis and the bream fish Sarpa salpa, whose effects mimic LSD or even DMT if you eat the whole fish… potentially leaving you experiencing terrifying hallucinations for over 36 hours. Sarpa salpa, commonly called the "Salema porgy," was apparently a major drug of choice in the Roman Empire. If you're on the hunt, you can find them off the coast of South Africa, Tenerife, Malta, Cyprus… even, occasionally, Great Britain (thanks to global warming!).
RELATED: What Happens When You Smoke DMT While Peaking on LSD?
Via Wikipedia:
Ichthyoallyeinotoxism, or hallucinogenic fish inebriation, comes from eating certain species of fish found in several parts of the tropics, the effects of which are reputed to be similar in some aspects to LSD. Experiences may include vivid auditory and visual hallucinations. This has given rise to the collective common name "dream fish" for ichthyoallyeinotoxic fish.
The species most commonly claimed to be capable of producing this kind of toxicity include several species from the Kyphosus genus, including Kyphosus fuscus, K. cinerascens and K. vaigiensis. It is unclear whether the toxins are produced by the fish themselves or by marine algae in their diet, but a dietary origin may be more likely.
Sarpa salpa, a species of bream, can induce LSD-like hallucinations if it is eaten. These widely distributed coastal fish are called "the fish that make dreams" in Arabic. In 2006, two men who ate fish, apparently the Sarpa salpa caught in the Mediterranean were affected by ichthyoallyeinotoxism and experienced hallucinations lasting for several days.
Other hallucinogenic fish are Siganus spinus, called "the fish that inebriates" in Reunion Island, and Mulloides flavolineatus (formerly Mulloidichthys samoensis), called "the chief of ghosts" in Hawaii.
RELATED: Here's 10 of the Greatest Psychedelic Movies of All Time
Sarpa salpa, however, is not poisonous, so the only dangers are to your psyche.
(You can see a school of them here; the person who took it probably ate some of the fish later, because he was so super-pumped about them that he later mixed some awful nu-metal into the video. Don't worry, it's mercifully short.)