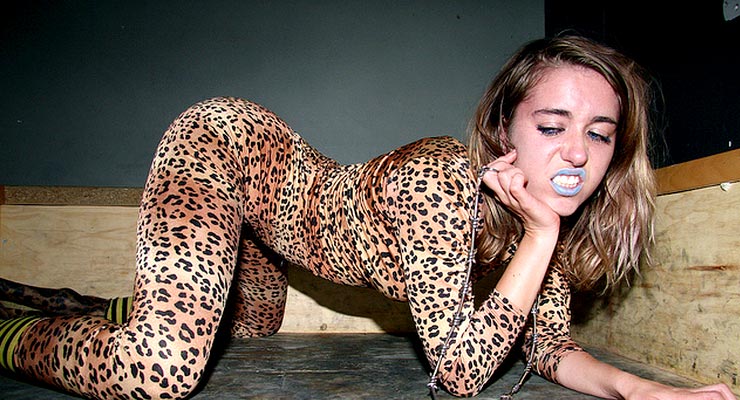 'Destroy All Limitations With Love,' Says Performance Artist Labanna Babalon
Ultraculture friend Labanna Babalon is a Los Angeles-based, brilliant Internet troll / consciousness catalyst / Avatar of the Scarlet Goddess.
Over the last few years she has been waging an all-out crazy-wisdom assault on the world's hipsters with her arsenal of fifth-dimensional magickal insight, boundary-destroying galactic love, insane YouTube videos, and formidable booty-popping skills.
Summing up Labanna is nearly impossible, since she appears to be a direct transmission from the Post-Quantum Goddess Realms in human form, Jah Bless.
Check out her epic YouTube channel for hundreds of Zen Transmissions and hallucinatory visions of Enlightenment-by-Booty-Shake.
Vice ran an interview with her recently, and introduced her thusly:
It all started when Labanna Babalon took acid every day for six days, and on the seventh stuffed seven hits in her vagina.
From here life took a turn for the extra trippy, as the supernatural experiences she'd been having since childhood morphed into a reality filled with wild theories that race out of her mind faster than they can lace up their running shoes.
A far-out den mother-slash-whore for all the aliens, robots, and unhinged seekers devoted to art, Labanna Babalon's a freewheeler who kinda just hits record on video and channels different versions of herself, all in the name of spreading love.
Pure glowing love, the kind that says, "I see you, and I accept you." The kind of stuff made for little kids and deep weirdos on the internet.
RELATED: Here's 8 Celebrities Who Practice Chaos Magick
In the last year she's created a community around YouTube missives delivered by her personality avatars.
These include but are not limited to trance Goddess, bathing goof-off, booty-popping ho (there is a large number of fans who love her solely for her ass—watch for her in an upcoming Riff Raff project), BFF to a seemingly limitless number of hot crazy girls who'll eat your heart for dessert, and maker of sounds that accelerate that feral part of all development.
Follow her on Twitter at @LABABALON.