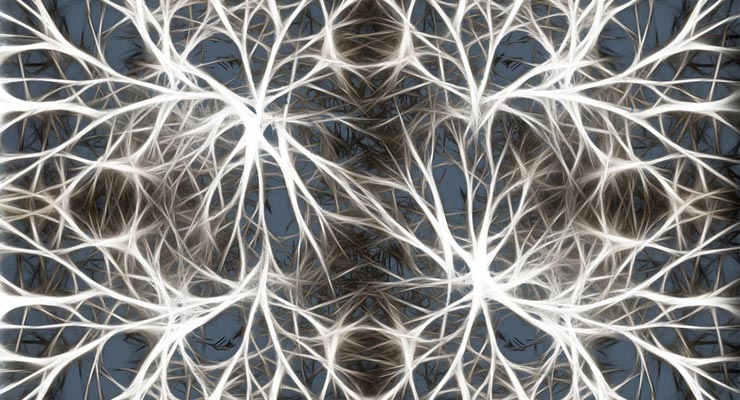 Dartmouth researchers suggest that imagination lives in a widespread neural network within the brain
Researchers at the Department of Psychological and Brain Sciences at Dartmouth College have located the origin of imagination in the human brain—and it's not in any specific location. Instead, says the Dartmouth team, imagination is spread out in the brain in a widespread neural network, or "mental workspace" as the team is calling it.
Neural networks are made up of neurons interconnected to other neurons via synapses. (According to Wikipedia: "A biological neural network (sometimes called a neural pathway) is a series of interconnected neurons whose activation defines a recognizable linear pathway. The interface through which neurons interact with their neighbors usually consists of several axon terminals connected via synapses to dendrites on other neurons. If the sum of the input signals into one neuron surpasses a certain threshold, the neuron sends an action potential (AP) at the axon hillock and transmits this electrical signal along the axon.")
RELATED: Science of Spirituality: Can the Roots of Spiritual Experience Be Found in Brain Chemistry?
Neural networks have also been mimicked artificially and are crucial in building artificial intelligence (the use of artificial neural networks was first proposed by Alan Turing).
Philosophers and scientists have long puzzled over where human imagination comes from. In other words, what makes humans able to create art, invent tools, think scientifically and perform other incredibly diverse behaviors?
The answer, Dartmouth researchers conclude in a new study, lies in a widespread neural network — the brain's "mental workspace" — that consciously manipulates images, symbols, ideas and theories and gives humans the laser-like mental focus needed to solve complex problems and come up with new ideas.
Scholars theorize that human imagination requires a widespread neural network in the brain, but evidence for such a "mental workspace" has been difficult to produce with techniques that mainly study brain activity in isolation. Dartmouth researchers addressed the issue by asking: How does the brain allow us to manipulate mental imagery? For instance, imagining a bumblebee with the head of a bull, a seemingly effortless task but one that requires the brain to construct a totally new image and make it appear in our mind's eye.
RELATED: Mystic Science: 6 Times Dreams and Mysticism Changed the Course of Science
Below, see a simple two-minute video explaining neural networks.