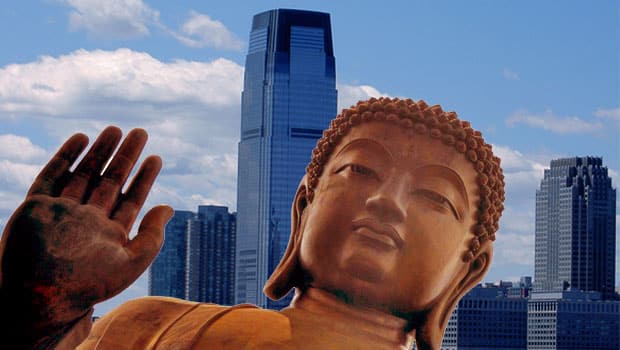 Listen to our new podcast, in which engaged Buddhist meditator Max Zahn goes head to head with multinational investment bank Goldman Sachs
Joy absolute! The third episode of the Ultraculture podcast is now up, in which I interview Max Zahn, Buddha on Strike. He's a meditator who is currently protesting the headquarters of the Goldman Sachs multinational investment bank in lower Manhattan by sitting in front of it daily and radiating… waves of compassion!
And… thrill of thrills… I now actually have a professional podcast setup, so I won't sound like an asthmatic Optimus Prime. No, this is a Real Podcast now. It sounds incredible, the ideas are incredible and YOU will feel incredible after listening to it. And there will be MORE of them VERY SOON! (So make sure to subscribe to the podcast at iTunes, where we now have a feed.)
More About Max Zahn
Max Zahn works as a waiter in a Mexican restaurant by night. But by day he's a Buddhist superhero.
Zahn is meditating in front of the Goldman Sachs building in New York, working publicly to instill compassion in the multinational investment banking firm. Goldman Sachs was, of course, one of the key players in the 2008 market crash and subsequent bailout that gutted the American economy.
Zahn and a friend meditate daily while bearing signs like "Your humanity is important; so is ours," "Begin anew with compassion" and "Let's alleviate suffering—together."
Zahn's actions are an example of engaged Buddhism, or activist Buddhism, which was made popular by the Vietnamese Buddhist teacher Thich Naht Hahn. (Zahn trained at the Rochester Zen Center; I'm not sure how influenced he is by Hahn.) Compassion is a core teaching in every sect of Buddhism, which emphasizes that happiness comes from seeing other beings as interconnected to you and working for their happiness.
In the video, Zahn employs a basic Zen-style sitting or possibly Samatha meditation while radiating compassion to the Goldman Sachs corporate entity. This is a modern update of many classic stories of Buddhist meditators, who are often depicted in the literature subduing wrathful deities and demons with the force of compassion and enlightened awareness.
[is_visitor]Check out our free guide to chaos magick here.[/is_visitor][is_lead]Start learning magick and occultism at Magick.Me, our online school for chaos magick.[/is_lead][is_customer]Start learning magick and occultism at Magick.Me, our online school for chaos magick.[/is_customer][is_subscriber]Start learning magick and occultism at Magick.Me, our online school for chaos magick.[/is_subscriber]