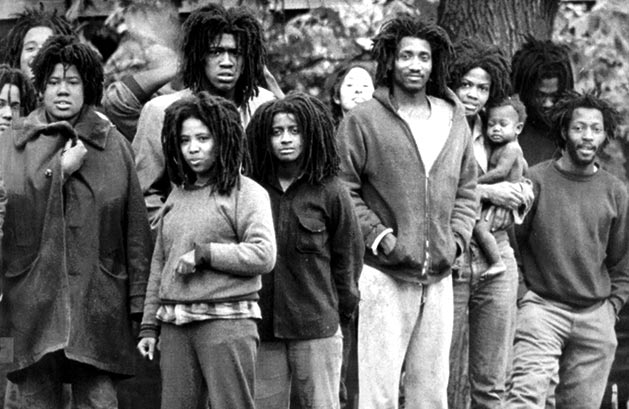 The Tragic 1985 Bombing of John Africa's MOVE Organization
The MOVE Organization were a group of mostly black, freedom and nature loving activists who lived in Philadelphia in the early 1970s to early 80s—until the Philadelphia police department dropped a bomb on their house from a helicopter on May 13, 1985, silencing their central figure, John Africa.
Eleven MOVE family members, five of them children, clawed their way out of the inferno, only to be beaten back by police gunfire. The Philadelphia Police and Fire departments let the blaze continue for hours as the 11 people and their numerous rescued animals all perished.
Falsely Accused
Their crimes? They were raw vegans protesting zoos and pet shops, taking in stray animals, composting, home schooling and preaching about the sacredness of life in the middle of a city that had no time to listen.
John Africa, who was born Vincent Leaphart, adopted the surname of Africa in reference to the place he believed all life originated. All MOVE members adopted the Africa surname, wore their hair in natural dreadlocks, and eschewed modern conveniences, drugs, alcohol and any chemicals, including birth control.
Although nearly illiterate, John Africa, with social worker Donald Glassey transcribing, self published a 300 page document titled The Guidelines, which became a touchstone for MOVE members. He preached reliance on the self, a deep respect for every living being, natural law, natural living practices and vigorous health through exercise and raw foods.
Revolution Means Total Change
Much as Robinson Jeffers showed us glimpses of vines taking over the "mounds of plaster" of once great cities, the people of MOVE envisioned a natural revolution, one that would be all-encompassing, and one that by proxy needed to take place within the city. To cling to even one remaining shred of the faulty system was to risk bringing a possible infestation of it into the world they wanted to create.
As John Africa stated, "Revolution means total change, a complete dissociation from everything that is causing the problems you are revolting against."
An Atmosphere of War
How could this consciousness and health minded group come to be bombed in an American city in 1985? There were various infractions lobbed at them via the courts over the years, but they remained peaceful in the eyes of the city. As the city's police force lashed out at them, Move defended themselves through diatribes via loudspeakers attached to their rooftop.
At one zoo protest a pregnant MOVE woman was arrested and allegedly repeatedly beaten and kicked, resulting in a miscarriage. Another horrendous incident occurred when police attacked MOVE members, killing a three-week-old baby which was thrown from its mother's arms and crushed under the boots of police. The baby's name was Life Africa. Because MOVE women gave birth at home, there was no record of the baby, and courts refused to acknowledge the existence and murder of Life.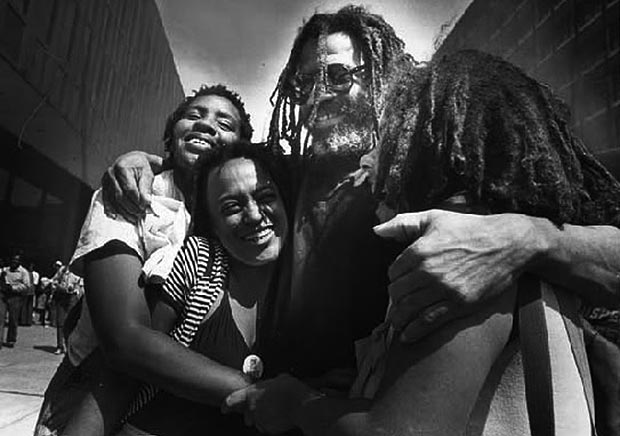 An atmosphere of war had saturated the canvas of 70s counterculture and the black liberation movement. MOVE felt pressured to defend themselves, and in 1978 a police raid of their house left one police officer dead. Nine MOVE members were charged with the murder, and although evidence was overlooked, the group, known as the "MOVE Nine," were sentenced to life in prison, where they remain to this day.
John Africa and Mumia Abu-Jamal
Author and political prisoner Mumia Abu-Jamal was a MOVE supporter who covered their trials through his journalism career, even requesting that John Africa represent him in his own trial (the request was denied by the court). Video tapes of blatant police brutality, John Africa's own trial, "John Africa vs. The System," and untold court cases came and went.
The group moved to Osage Avenue in West Philadelphia. There, they continued their quest for natural living, freedom and revolution, but campaigned relentlessly for the release of "The MOVE Nine."
Increasingly their composting was seen as a sanitation problem, their loudspeakers an annoyance, and their campaigning a problem that city officials wanted to eradicate. When the police came to make arrests on that tragic day in 1985, they came first with water cannons, then 10,000 rounds of ammunition and then, finally, with C-4 explosives. The bomb left four city blocks destroyed, 250 people homeless, and incinerated six adults, five children and their animals.
Ona Move
The story of MOVE chills my bones. I was a child when this happened, living in America, breathing the same air, yet I had no idea what was unfolding around me.
Reading about this, and watching videos of the sole adult bombing survivor, Ramona Africa, I feel even more anger and bewilderment. These were people of the earth, standing up for what they could not turn away from: the truth of the natural world. This natural world was so scary, so unpredictable, wild and primal, that it invoked an irrational fear in the authorities to the point that they killed unborn babies, beat and caged men, and bombed women and children.
A Lasting Testament to Power
This, to me, is a true testament to the power of people simply rejecting a social structure. And this is why it's so important to learn from past guides. We can now compost and not be bombed. We can home-school children, eat raw foods, campaign for equality for all living beings.
To quote John Africa, "All living beings, things that move, are equally important, whether they are human beings, dogs, birds, fish, trees, ants, weeds, rivers, wind or rain. To stay healthy and strong, life must have clean air, clear water and pure food. If deprived of these things, life will cycle to the next level, or as the system says, 'die'."
The MOVE family may be splintered but their vision of the land, forests, rivers and all wild things flourishing stays "Ona Move."