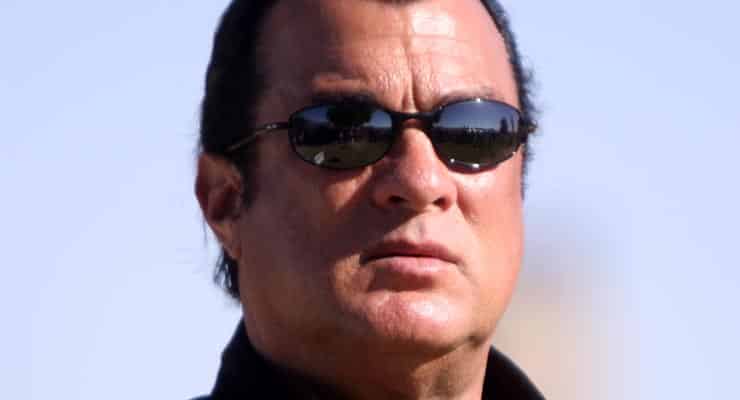 Steven Seagal claims to be a reincarnated 17th century Tibetan monk… and apparently *actual* Tibetan monks believe him. No, I am not making this up.
Steven Seagal is best known for his skill at punching. Others might know him for his music career, his long-running and "secret" stint as a policeman (see Steven Seagal: Lawman) or even his "Steven Seagal's Lightning" energy drink.
But Mr. Seagal secretly has a far more noble calling: he's also a recognized Tulku, or reincarnated Tibetan lama.
Via Wikipedia:
The American film actor Steven Seagal, while already an adult, was recognized by Penor Rinpoche, the head of the Nyingma school, as the reincarnation of a 17th century tertön from eastern Tibet, Chungdrag Dorje. Penor Rinpoche notes that "such recognition does not mean that one is already a realized teacher"; Seagal has not been enthroned and has not undergone the extensive program of training and study that is customary for a tulku.
RELATED: Here's 8 Celebrities Who Practice Chaos Magick
Seagal has specifically been recognized as the reincarnation of the 17th century terton (treasure hunter) Chungrag Dorje, who founded a small monastery in Eastern Tibet. (Seagal is so confident in his spiritual status that he is alleged to travel to Dharamsala to lecture the locals on the tenets of Buddhism.)
OK, But Really? Is Steven Seagal Legitimately a Reincarnated Tibetan Monk?
In a statement, Penor Rinpoche addresses his recognition of Seagal as a tulku:
In February of 1997 I recognized my student, Steven Seagal, as a reincarnation (tulku) of the treasure revealer Chungdrag Dorje. Since there has been some confusion and uncertainty as to what this means, I am writing to clarify this situation.
Traditionally a tulku is considered to be a reincarnation of a Buddhist master who, out of his or her compassion for the suffering of sentient beings, has vowed to take rebirth to help all beings attain enlightenment. To fulfill this aspiration, a tulku will generally need to go through the complete process of recognition, enthronement and training.
RELATED: Meet Kali Ma, the World's Most Intense Goddess
In the case of Steven Seagal, he has been formally recognized as a tulku, but has not been officially enthroned. He has also not undergone the lengthy process of study and practice necessary to fully realize what I view as his potential for helping others. When I first met him, I felt he had the special qualities of a tulku within him. According to the Great Vehicle (Mahayana) of the Buddhist tradition, all beings have within them the potential for becoming Buddhas. With Steven Seagal I perceived this potential to be particularly strong as accords with being a tulku. In the past, whenever I have met someone that I feel is a tulku, I have always consulted with other masters of the Nyingma lineage such as Dudjom Rinpoche, Dilgo Khyentse Rinpoche and other senior lineage holders. Similarly, after my experience of meeting Steven Seagal, I consulted with another important Nyingma master and with his concurrence, recognized Steven Seagal as a tulku.
Many complex proofs are required in the Tibetan tradition for recognizing tulkus, but clearly—as seen in the video above, in which Mr. Seagal delivers an astoundingly bad (or astoundingly profound, I'm not sure) zen koan after clearly having just done a line of blow—the proof is in the pudding with this one.