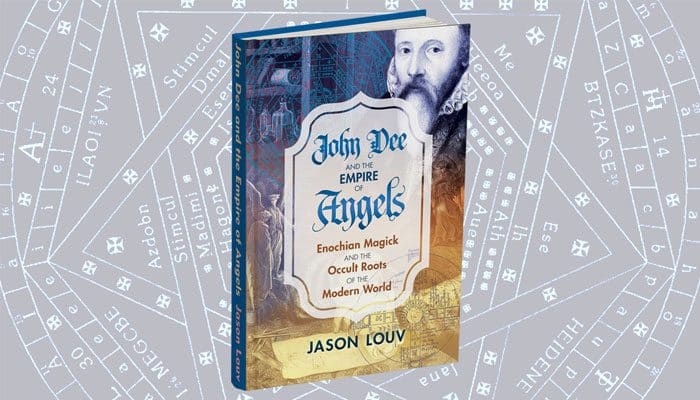 My new book, John Dee and the Empire of Angels, is now out from Inner Traditions. Get yours now!
It's my great pleasure to announce to you the release of my new book: John Dee and the Empire of Angels, published by Inner Traditions. This is my Magnum Opus, and it's now available.
This is a massive book. It tells the story of John Dee, Edward Kelly and their mind-bending sessions contacting Enochian angels. These are the sessions from which the core of modern magick originated—and the core of modern history itself.
Along the way, I cover over 500 years of the secret occult history of the world. We explore the birth of Qabalistic magick in the Medici city states 500 years ago, the 20th century Enochian experiments of Aleister Crowley and Jack Parsons, how magick has shaped our present world, and what the Apocalypse truly is.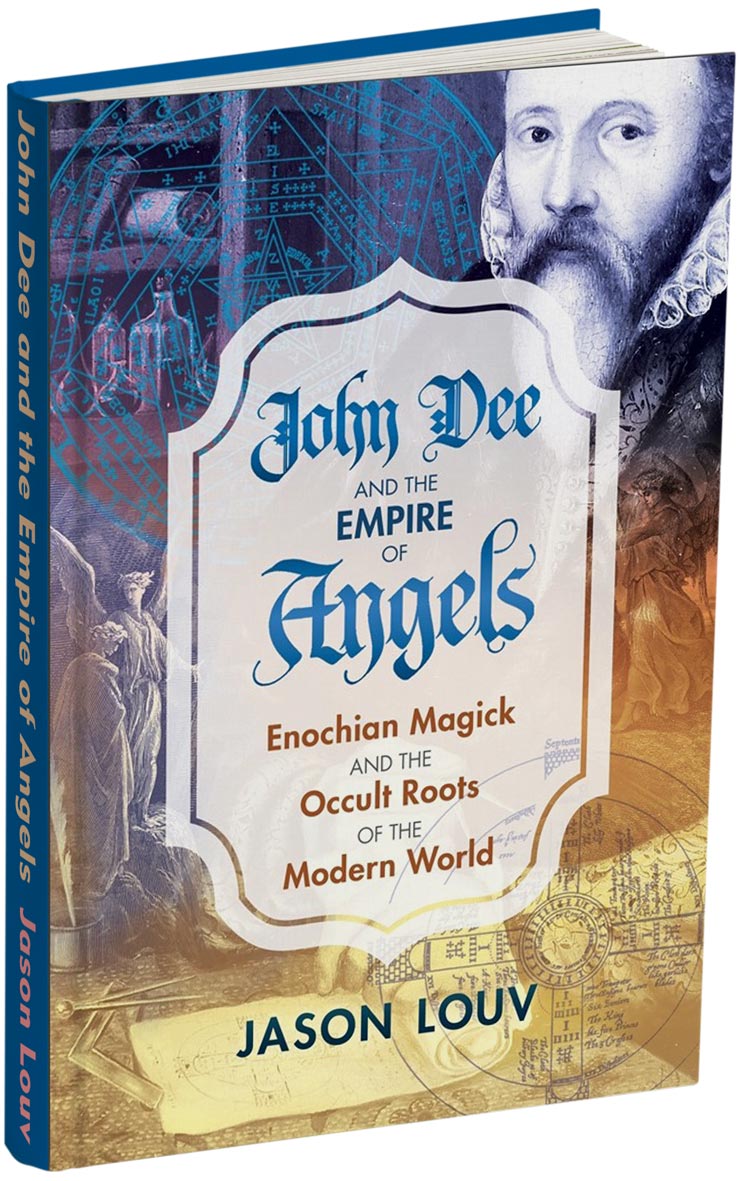 This is the definitive book on the occult—the best possible book I could write, uncovering layers upon layers of reality, revealing the shocking plans of the Enochian angels, and showing you the big picture of what Western magick actually is (and what reality is!). I've spent nearly every waking hour of the last three years pouring everything I've got into this book—blood, sweat and tears. That's because I had to write the book I always wanted to read: The book that explains EVERYTHING.
This is a hardcover book, full of beautiful full-color imagery and occult schematics, totaling almost 600 pages. It will be in bookstores everywhere in April—but I'm letting you know about it first.
I've built a great Web site to show you the book, where you can read excerpts, get extra content and order the book so you're one of the exclusive few to get it when it drops. Check it out at the link below:
Or, to cut to the chase, you can directly order the book at Amazon here.
This is the most important thing I've ever done, and I can't wait for you to get your hands on it!
PS: Check out what occult luminaries are saying about the book:
"John Dee is the original Elizabethan mage-scientist, who invented the British Empire and invested it with magical power. He is to Elizabeth what Merlin was to Arthur. Except he was real. Here's the original technology of weaponized memes, psyops, and empire building in a gripping, authoritative account of how and why we became an occult society."
– Douglas Rushkoff, media theorist and author, Aleister and Adolf, Throwing Rocks at the Google Bus, Present Shock
"Jason Louv's masterful account of the enigmatic Elizabethan magus John Dee places him in the top tier of new esoteric writers… Louv's assertion of Dee as both a creator and custodian of Western civilization is thought-provoking, and is backed up by meticulous research. Highly recommended."
– Brendan McCarthy, artist, designer and writer, Mad Max: Fury Road, Dream Gang, Rogan Gosh
"Renaissance magus John Dee boldly set out to systematically tap the mind of God by communicating directly with a complex hierarchy of 'angelic' intelligences. It can be argued that he succeeded. His magical diaries have long held intense fascination among Qabalists, alchemists, and explorers of human consciousness who have developed workable magical systems from these records. Jason Louv's work succeeds, with breathtaking thoroughness, to tell this amazing and true magical tale. More importantly, he also reveals the profound geopolitical significance of Dee's magical explorations—effects that still shape the global realities of today."
– Lon Milo DuQuette, author, Enochian Vision Magick: An Introduction and Practical Guide to the Magick of Dr. John Dee and Edward Kelley and Enochian World of Aleister Crowley
"The Dee story is among the most mystifying and important in the entire history of the Western Esoteric Tradition. And here, Jason Louv has given us the most complete, complex, and balanced account yet of Dee and his aftermath. An awesome achievement."
– Ralph Abraham, professor emeritus of mathematics, University of California, Santa Cruz; chaos theorist; author, Chaos, Gaia, Eros; The Evolutionary Mind; Trialogues at the Edge of the West (With Terence McKenna)
"Jason Louv's John Dee and the Empire of Angels is a groundbreaking new assessment of one of the Western world's most influential polymaths. It brings together a staggering amount of research on Dee's life and multivalent contributions to the fields of science, mathematics, esotericism, and religious thought. Louv is an assured guide, patiently unknotting each thread of Dee's output—angelic or otherwise—then weaving them all together again to show how these ideas form the very fabric of modern 'reality' as we know it. Through a combination of intellectual rigor, sensitivity to both historical and current socio-political climates, and perhaps a bit of his own intuitive scrying, Louv offers us a crystalline view of John Dee's visionary mind and complicated legacy."
– Pam Grossman, author, What Is a Witch, host of The Witch Wave podcast
"Jason Louv's book is absolutely invaluable. It contextualizes the very bedrock that Western ceremonial magic is based on. Dee and Kelly's legendary experiments are the cornerstone of our Western understanding of how magic works. But there's more to it than that. Louv's impressive work is not only an enjoyable, adventurous journey into esoteric history but also one into the multifaceted—and sometimes dangerous—machinations of the human mind."
– Carl Abrahamsson, author, Occulture: The Unseen Forces That Drive Culture Forward
"Dee's sixteenth century work in magic and angelic technology is the precursor to the unconscious technology driven-times in which we now live, with our iPhones and iPads (the scrying glasses of the twenty-first century). Dee was a kind of 'divine Coder'. He saw the future not in binary, not in ones and zeros, but in the harnessing of living angelic hierarchies that could be mastered consciously, inwardly and outwardly, as a key towards an enlightened utopian vision for mankind. Never has there been more valuable and more prescient time than NOW to have John Dee and the Empire of Angels published."
– Elias Merhige, director of Begotten and Shadow of the Vampire
"John Dee was a crucial piece within the formation of the Elizabethan age. Jason Louv weaves a masterfully poetic web that first introduces you and then sucks you into Dee's luminous world of magick, Hermetic philosophy and occult divinity. He gracefully presents Dee's mind blowing relationship not just with Elizabeth I but with the British Empire as a whole, whose influence on the modern world is felt even today. John Dee and the Empire of Angels is not just a book about the occult and magick, it's also a unique historical reference guide that I found to be a hypnotic read. Jason is a brilliant mind and writer, and this proves that."
– Zach Leary, host of the Multidisciplinary Association for Psychedelic Studies (MAPS) and It's All Happening podcasts
"This is the first book I've seen where Dee's angelic magic is neither discussed in isolation, nor dismissed as an eccentric sideline, but recognized as a key part of Dee's philosophy and political influence right up to the present day. I only wish I had found a book like this when I first became interested in John Dee."
– Lionel Snell (a.k.a. Ramsey Dukes), author, My Years of Magical Thinking
Order the book at Amazon here!