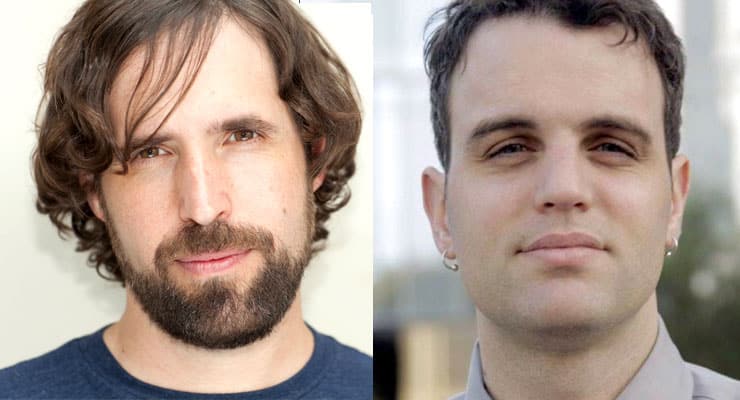 A roundup of every time Jason Louv has appeared with Duncan Trussell on the Duncan Trussell Family Hour to talk about magick!
Hey there! Over the last couple years I've been very honored and grateful to team up with psychedelic avenger Duncan Trussell and become a regular guest on his show. About once a year I show up to do a "Magick Class With Jason Louv" spot, and Duncan and I travel across the multiverse to discuss the heavens and hells of psychedelic and magical consciousness.
Here's the shows, in chronological order:
Duncan Trussell Family Hour #114
In my first appearance on Duncan's show, we talk about the occult nature of the media; if there actually is a massive conspiracy to constrain human consciousness or if people are just that way all on their own; the nature of the Qliphothic Hell Realms and lots, lots more. This one starts off dark and just gets darker, but worry not, there's LVX at the end of the tunnel!
Duncan says: Magician, author, and mystic Jason Louv (Monsanto Vs. The World, Queen Valentine, Generation Hex, The Psychick Bible) discusses the dangers and potential benefits that come from walking the magickal path!
Duncan Trussell Family Hour #160
I follow up my previous appearance with a good general talk on the nature of Magick and the critical importance of laser-pointed consciousness in our fragmented, mentally scattered world. How to jump across multiple dimensions by shifting your focus is also discussed, so there's that, too.
Duncan says: Jason Louv, Ultraculture, magick.me, returns to the DTFH to teach Duncan about the secret arts!!
Duncan Trussell Family Hour #230
In my latest appearance, we talk about the great Renaissance magician Dr. John Dee, the deeper history of the Western occult tradition and the nature of the universe itself as the embodied mind of God. These are all fun subjects you can discuss with your family around the dinner table after listening intently!
Duncan says: A deluxe episode with an exclusive new song from award winning mega-band Win Streak Bonus Star along with a deep conversation with author and occultist Jason Louv. We explore John Dee, the Enochian angels and the magical arts.
(Check it out at Duncan's site here, it's not on YouTube currently.)
[is_visitor]If you're inspired to learn more about magick after listening to these shows, you check out my free course on chaos magick here![/is_visitor][is_lead]If you're inspired to learn more about magick after listening to these shows, check out Magick.Me, my online school for magick![/is_lead][is_customer]If you're inspired to learn more about magick after listening to these shows, check out Magick.Me, my online school for magick![/is_customer][is_subscriber]If you're inspired to learn more about magick after listening to these shows, check out Magick.Me, my online school for magick![/is_subscriber]