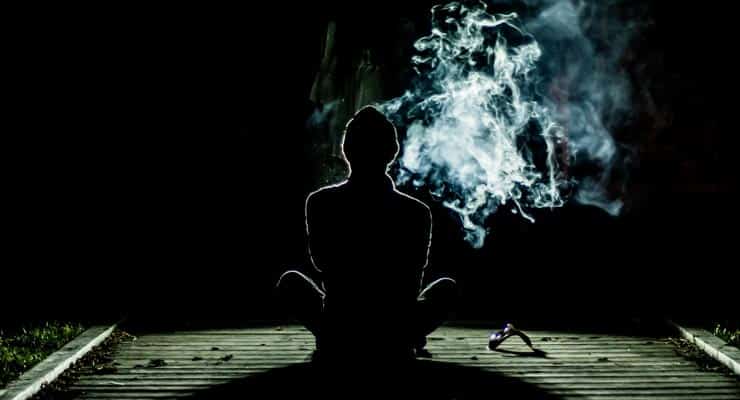 Here's a handy guide to creating a sacred space to use daily for meditation and ritual—an absolutely necessary step in taking charge of your evolution!
Creating a sacred space—in which you can begin or end your day—is an incredibly important step in taking control not just of your life in this moment, but in your personal evolution into the future. Once you get the basics of creating a sacred space down, you can use that space for yoga, meditation, ritual, magic, visualization or whatever exercise you best feels aligns you with your higher self. But the sacred space itself is necessary! Just like having your own desk for work, having a sacred space for meditation and growth is important for focusing yourself.
Before we start, I should point out that this article continues a series of educational posts about ritual, and how to do it—you can see previous posts here, which help build the foundations of magical practice:
Why Keeping a Record is the Most Important Skill in Magick
3 Magick Mantras for Focusing Your Mind
Now it's time to get into the fun stuff: Ritual itself.
Ritual might sound a little scary—but all it actually is is meditating with tools. In addition to focusing your mind with meditation, you also use external actions and ceremony to develop your external focus. It's no different from how Tibetan monks meditate using ceremonial garb and implements, or even how star athletes vibe themselves up before games with key words, dances or songs. All of these "magic" tools, phrases and incantations are a kind of code for storing states of consciousness, so that you can quickly get in and out of them.
With that in mind, let's get started setting up a sacred space for ritual.
You'll want to start with the following things:
1. Prepping a good meditation cushion.
One you'll want to sit on with a straight (and unsupported) back, day in and day out. Chairs are no good, and laying down will lead to sleep. You need a zen-style cushion. A folded up blanket can work. This Zafu cushion, which comes in several colors, is specifically designed for meditation, offers great support and is quite versatile.
(For a quickstart guide to meditation, check out our video how-to below.)
2. Creating a sacred space proper.
In whatever way makes most practical sense for you, begin creating a sacred space—a place to do daily ritual. That can be a room or part of a room in your living space—even a spacious closet. Or you may want to make a portable space, or even carry your temple in your imagination.
You can get elaborate—circle painted on the floor and elaborate altar—or stay simple. My advice: Start simple. After you've got your meditation seat, grab a cord or rope to use to make a magical circle around you. Not only is this method portable, but you can pack it up and move it easily if you live with people who might be confused by what you're doing. Check out this durable red nylon paracord. It's sturdy—and red, the color of Mars, the planet of establishing and guarding boundaries.
RELATED: The 7 Biggest Mistakes People Make When Learning Magick
If you want to get more elaborate, you can start assembling items in this space that suggest your goals, inspire you, or that instill a sense of power within you. But this isn't necessary. All you need is a seat and a boundary.
Once you have your space prepared, use it. Keep your journal in it. Use your mantra in it. Get accustomed to how it feels. Begin to do things you consider magical within it—creatively and freeform, from your intuition—and record them in detail.
This is important: Improvisation precedes form. Be creative, and don't worry too much about doing it "by the book"—you may have some profound and deep insights you wouldn't otherwise.

Get a Full Education in Creative Ritual
Now that you've learned to start creating a sacred space, it's time to take the next step: Learning how to do ritual to supercharge your personal growth.
Get started on mastering personal rituals with Ultraculture's free guide to chaos magick. You'll learn everything you need to know to use ritual to turn the power of the unconscious mind to your advantage and master life. Enjoy it!
(Image via.)