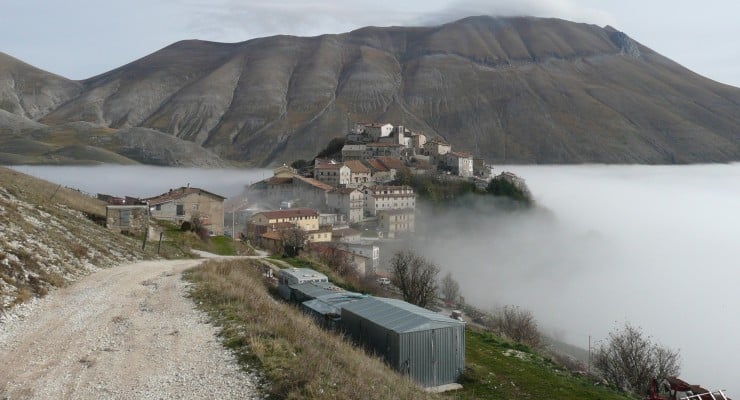 Hogwarts might be fictional, but schools for magick are real—they were common not only in the ancient world, but still exist in our current day and age. Here are ten real-life magick schools.
Have you ever wanted to study magic in an official capacity? Do castles, potion-making classes and robe-wearing faculty appeal to you? If you said yes to the above questions, you can apply to a Hogwarts like LARP experience in Poland or enroll in this elf history course in Iceland. But if you desire instruction in the subtle art of magick, at a true, real-life Hogwarts, I'd encourage you to keep reading. What do I mean by magick? Simply this (as described by Ultraculture's founder Jason Louv):
"Broadly speaking, I use the word 'magick' as a simple and taboo-tweaking shorthand for a vast spectrum of religious and consciousness-altering techniques from across the world's cultures and world history, incorporating shamanism, yoga, martial arts, prayer, meditation, self-hypnosis, study of world religion, trance, inspired art, dancing, the grind of daily living and everything in between. More practically speaking, anything that helps in disciplining the self into becoming a greater and more broadly helpful individual."
Believe it or not, schools just like Hogwarts that taught these disciplines once existed. Some still exist today. Others are… let's say "legendary." You'll have to come to your own conclusions about them. The following list is the result of my researches into the recondite curricula of the magi and ascended masters around the world. That's right, it was revealed to me in abstruse initiatic sibilations from my super-secret rainbow-aureoled advisors in the occult sciences. Now that's either a load of BS, wishful thinking or brutal truth. Which is why you need to remember that this is your path. Take it or leave it. Do as thou wilt with the information below. Here's my list of ten real-life Hogwarts:

Start learning magick and occultism at Magick.Me, our online school for chaos magick. Start learning magick and occultism at Magick.Me, our online school for chaos magick. Start learning magick and occultism at Magick.Me, our online school for chaos magick.
1. The Brethren of Purity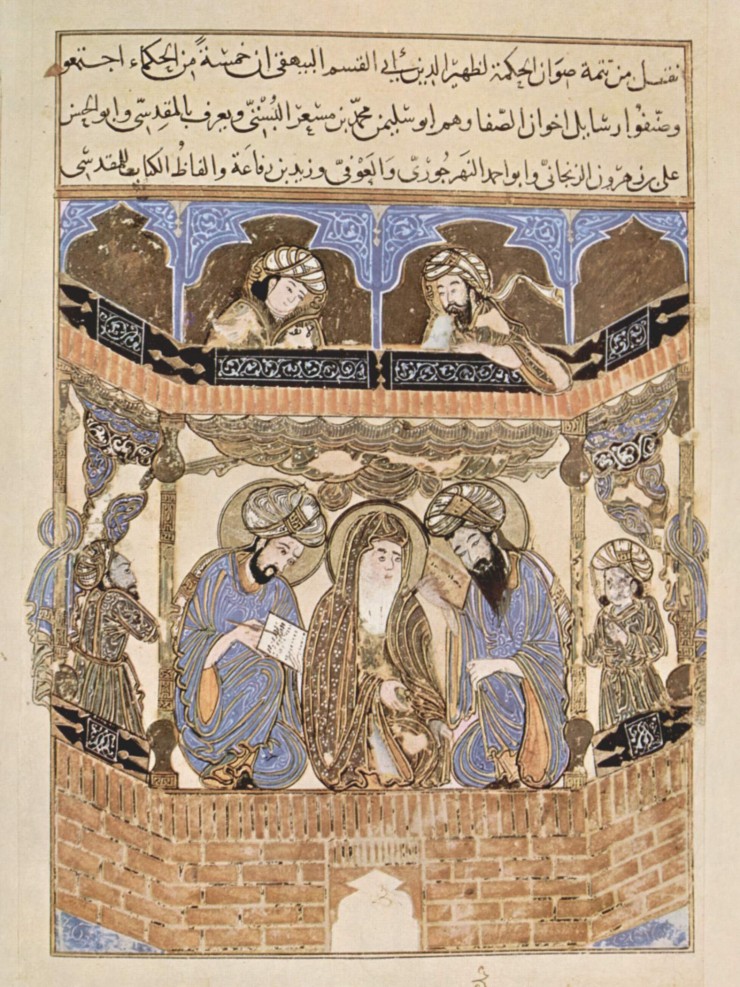 Arabic manuscript illumination from the 12th century CE showing the Brethren of Purity via Wikimedia Commons.
This 10th/11th century consortium of philosophers and physicians from Basra (in modern-day Iraq) was a legit secret society with a knack for productivity. Their greatest work was a fifty-two treatise volume on alchemy, mathematics, theology, and cosmology called Rasā'il al-Ikhwān al-safā'
(Treatises of the Brethren of Purity). Like the Assassins, who have been immortalized in the hit video game series Assassin's Creed
, the Brethren of Purity were members of the Ismaili denomination of Islam.
2. The College of Astrology at the University of Paris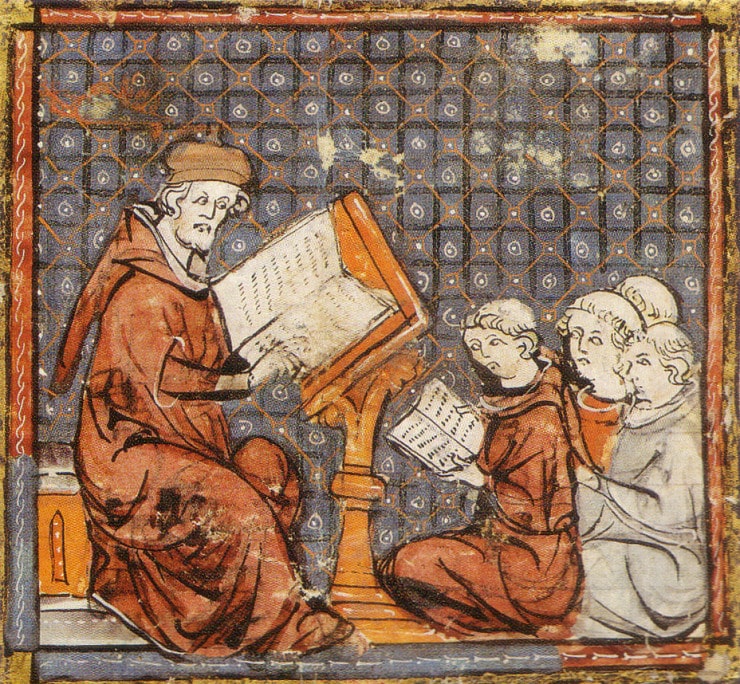 Teaching at Paris in the late 14th Century. Image via Wikimedia Commons.
In the 1370s, Charles V, the king of France (also known as "The Wise") established a College of Astrology at the University of Paris. Believe it or not, the college (which also taught "astrological medicine") was supported by the pope and was given class materials and two endowed fellowships.
3. The Norton Street Magic School in Marylebone, London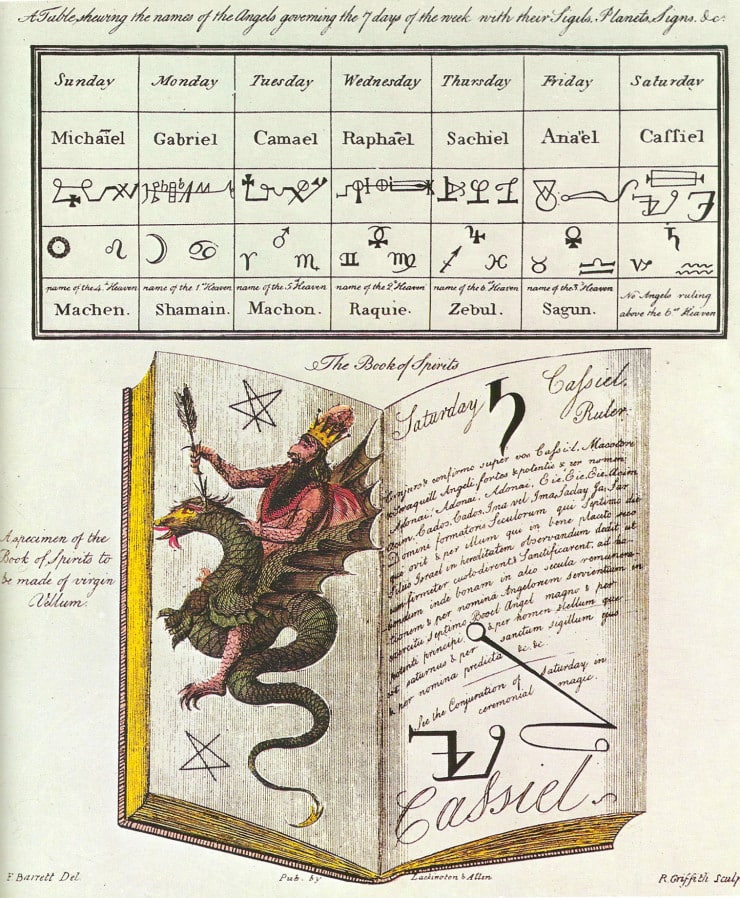 Image from Francis Barrett's The Magus via Wikimedia Commons.
This 18th century institution was run by the self-described arch-wizard, Francis Barrett. Barrrett was the author of The Magus, a magical textbook that, as I've written elsewhere, borrowed a lot of material from Heinrich Cornelius Agrippa. Barrett only accepted twelve students at a time and taught classes on "eternal wisdom" and the "hidden treasures of nature."

Start learning magick and occultism at Magick.Me, our online school for chaos magick. Start learning magick and occultism at Magick.Me, our online school for chaos magick. Start learning magick and occultism at Magick.Me, our online school for chaos magick.
4. Mesmeric Hospitals of London and Calcutta in the 19th century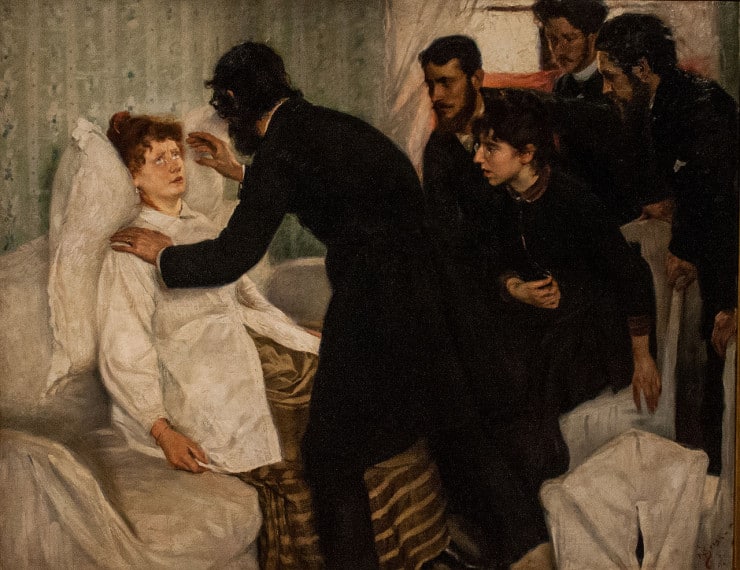 Hypnotic Séance by Richard Bergh via Wikimedia Commons.
These infirmaries weren't schools per se. They were however, places where professional mesmeric surgeons, such as James Esdaile, John Elliotson and their assistants could directly treat patients. Although the hospitals in both cities were relatively successful, neither could withstand the popularity of evidence-based medicine.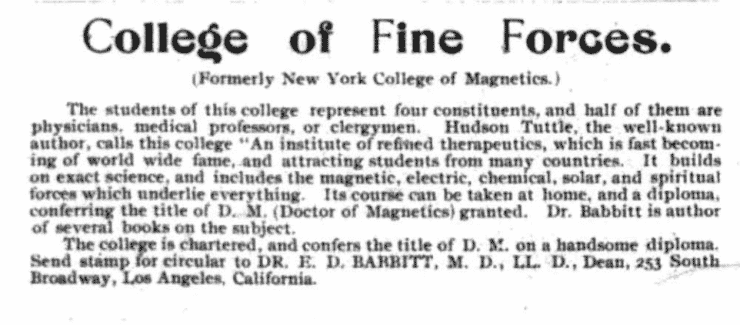 (Image via Google News Archive.)
A similar failed enterprise across the Atlantic was the New York College of Magnetics. After its charter was revoked in 1893, it was resurrected as the College of Fine Forces in East Orange, New Jersey. It was described as a "institute of refined therapeutics" which built on the "magnetic, electric, chemical, solar, and spiritual forces which underlie everything."
5. The Cosmic School of Max and Alma Théon in Tlemcen, Algeria.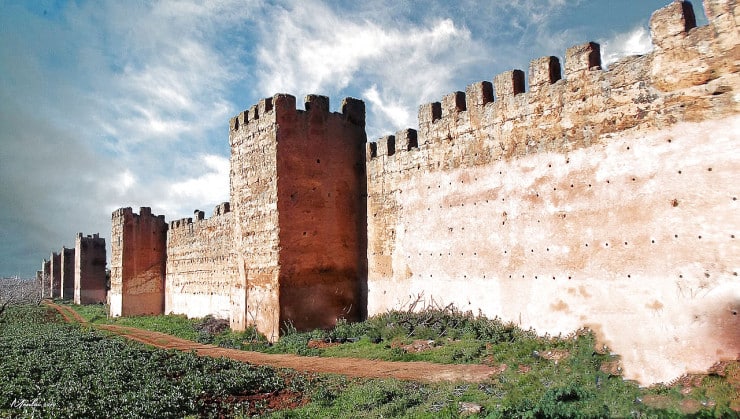 City Walls of Mansoura in the Tlemcen Provine, Algeria via Wikimedia Commons.
Max and Alma Théon were highly influential on the burgeoning European occult revival movements in the 19th century. From their home in Tlemcen, Algeria, they taught a select number of students lessons in the Cosmic Tradition. This hodgepodge religious philosophy combined various Eastern and Western belief systems. One of their most famous students was Mira Alfassa, also known as "The Mother."
6. Sarmoung Brotherhood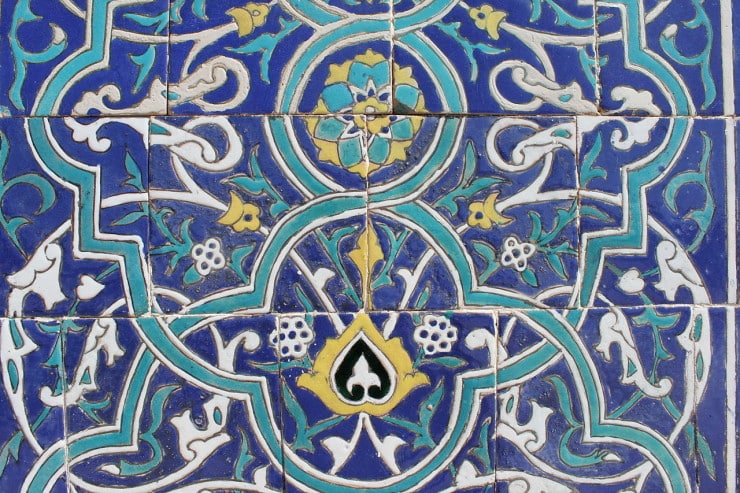 Detail from the Bahaouddin Naqshbandi mausoleum entrance via Wikimedia Commons.
Both mystic George Gurdjieff and Sufi scholar Idries Shah claimed that this mysterious society was responsible for transmitting secret knowledge to the West. The group, which has allegedly existed since Babylonian times, is something like the ultimate "light from the East" oriental sages myth; a real-life "League of Shadows." However, some scholars have suggested that the group is related to the Naqshbandi Sufis. In Initiates of the Theosophical Masters, Kenneth Paul Johnson writes that the Sarmoung may be preservers of "pre-Christian Middle Eastern occultism."
7. The "Devil Schools" of Romania, Spain and Italy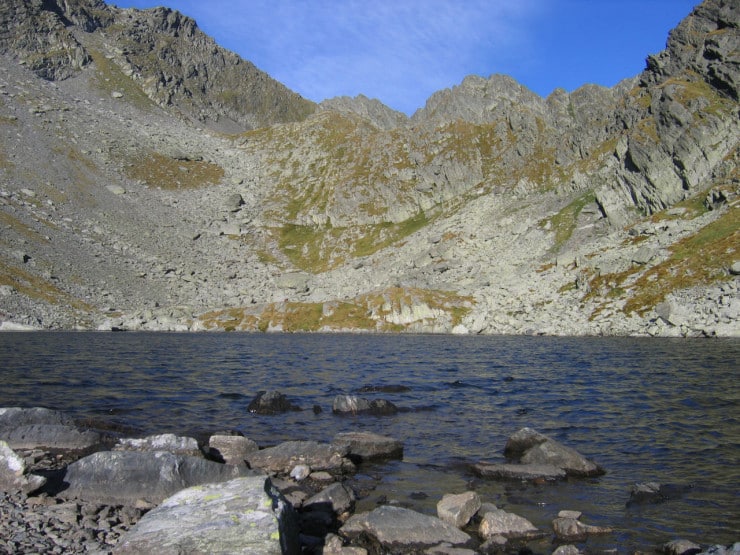 Glacial Lake in Romania's Făgăraș Mountains via Wikimedia Commons.
In the past, many popular urban legends described the Devil as an unforgiving academic who enjoyed punishing students in his elite school. This probably still rings true in some modern universities. Traditionally, only thirteen students could attend at a time. After graduation, one of them would have to devote himself to the infernal headmaster. In Romania, this school was located near modern day Lake Balea. Others could be found in Salamanca and Toledo.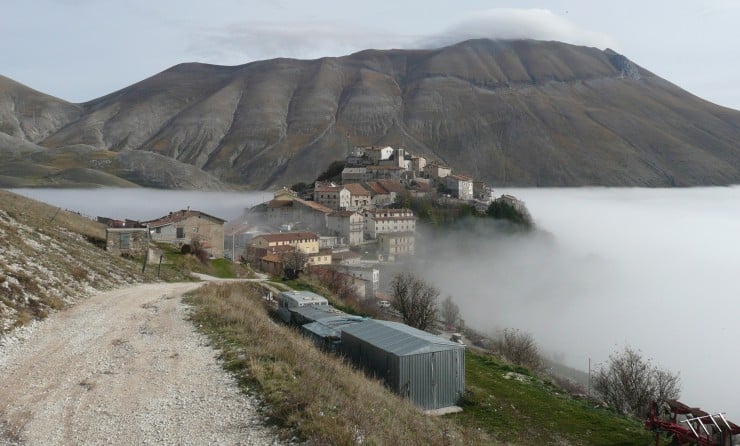 The city of Castelluccio in Norcia via Wikimedia Commons.
In Italy, however, the mountainous region of Norcia had a reputation as the "dwelling place of councils of highly trained witches and wizards." It was mentioned both by Pope Pius II and Benvenuto Cellini.
8. Vatican-approved exorcism seminars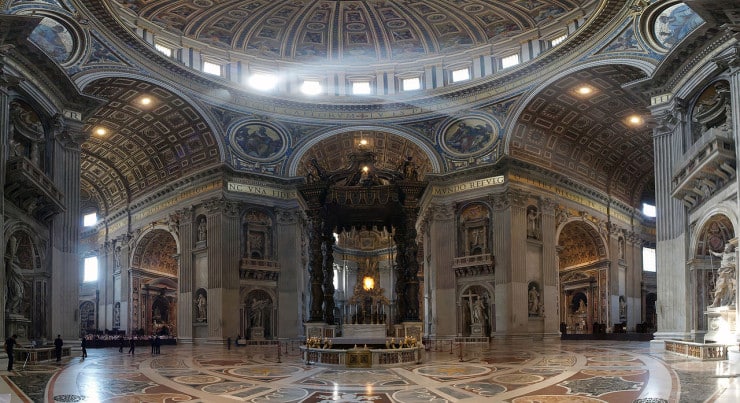 The interior of St. Peter's Basilica in Vatican City via Wikimedia Commons.
The Catholic magisterium has been training exorcists for hundreds of years and occasionally offers public classes to clergy and laymen. For example, one six-day course was held in 2015. NBC News reported that it offered its attendees "the tools needed to cast demonic spirits from human hosts."
9. The Tibetan Medical and Astrological Institute at Dharmsala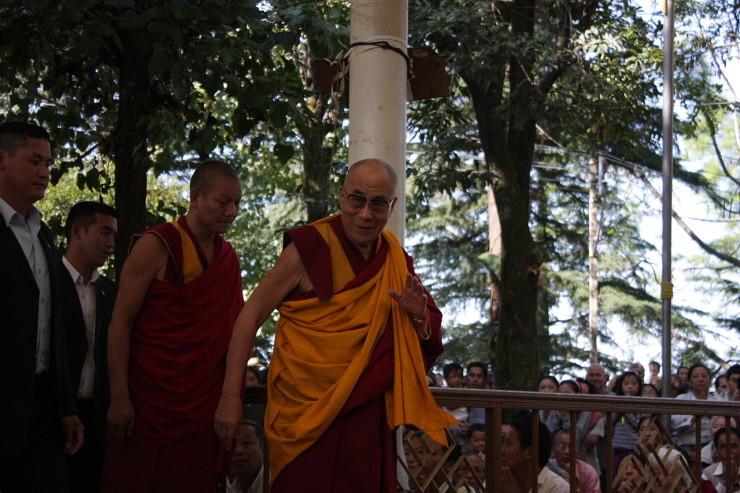 The Dalai Lama in Dharmsala via Wikimedia Commons.
This rigorous academy was established by the Dalai Lama in 1916. Its purpose is outlined in its mission statement:
"The main objective of Men-Tsee-Khang is to preserve, promote and practice Sowa Rigpa, the ancient Tibetan system of medicine, astronomy and astrology. It also aims to improve the health and sanitation of the refugees in particular and the public in general and to establish dispensaries in order to provide accessible health care to the people regardless of caste, creed or color.
"Education and Higher Studies in the fields of Tibetan Medicine and Astrology, Research and collaboration with scholars and institutes in India and abroad between different healing systems and to produce Tibetan medicines in an environmentally sensitive manner are the important goals in the development of this ancient healing system."
10. Magick.Me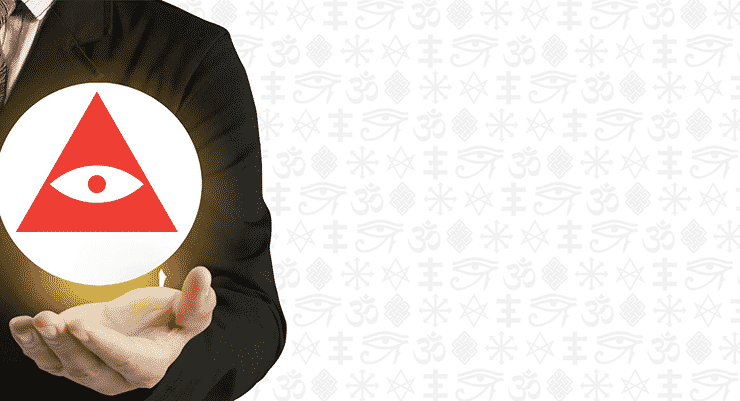 With the advent of the digital age, magical athenaeums have sprouted up on the World Wide Web. Unlike our ancient predecessors, we now have universal knowledge just a click away. Magick.Me for example, is headed by Jason Louv, a mage who started his journey in chaos magick in the '90s and was later initiated into siddha traditions by shamans, Naths and Aghori in Nepal—a true real-life Hogwarts. You can find out more at Magick.Me!