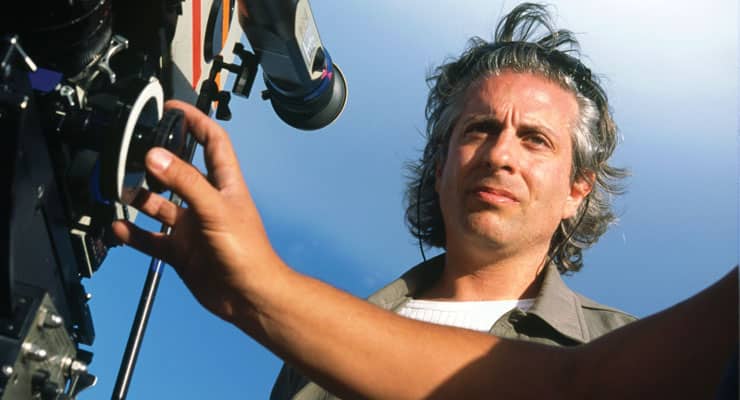 Director E. Elias Merhige (Begotten, Shadow of the Vampire, Suspect Zero) stops by the Ultraculture podcast to talk about magick, hermeticism and art as shamanism
In the latest episode of the Ultraculture podcast, director E. Elias Merhige discusses how magick, shamanism, the Hermetic tradition and remote viewing have influenced his work.
Merhige created the infamous and incredibly influential 1990 film Begotten, which depicts an elaborate ritualistic process reminiscent of ancient myth and symbol but simultaneously wholly unique in its own cosmology. He also directed the 2000 film Shadow of the Vampire, starring Willem Dafoe and John Malkovich, a fictionalized portrayal of the filming of the 1922 version of Nosferatu, as well as the 2004 film Suspect Zero, which touches on Merhige's fascination with remote viewing. He also directed Marilyn Manson's videos for "Cryptorchid" and "Antichrist Superstar"—both directly inspired by and even including clips from Begotten; Merhige's film being one of the primary inspirations for Manson's Antichrist Superstar-era persona.
Merhige is also a deep scholar of Hermeticism—which became immediately clear to me when he showed me one of the best-curated libraries of ancient Hermetic, Kabbalistic and Masonic books I've ever seen, stretching from an extensive collection of works by the Lutheran mystic Jakob Böhme to original Golden Dawn documents to a complete set of Man, Myth and Magic.
RELATED: How Hermetic Initiates Used Magick to Study Reality
We recorded an immense conversation in his library about the nature of Magick, initiation, Hermetics, life, the journey of the artist and lots, lots more. I'm sure you'll enjoy hearing the show as much as I enjoyed recording it—it's a lovely, lovely episode.
If you enjoy this show, please check out my free course on magick. It's packed with informative reading, instructional videos, guided meditations and lots more, all on how to use meditation and mysticism to shape your life.
(To make sure you get future episodes of the show in a timely way, please subscribe to the Ultraculture podcast at iTunes, here! You can subscribe to it on Soundcloud as well, if you like—the Soundcloud is here!)
See you soon for more episodes of the show!