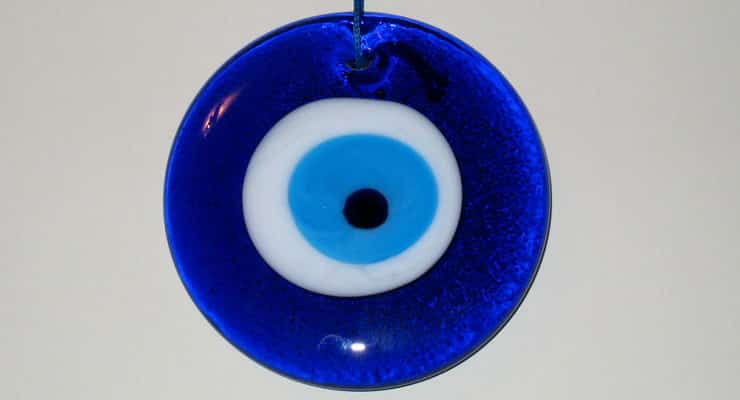 Is somebody giving you the Evil Eye of jealousy? Here's how to protect yourself.
We've all heard the phrase "if looks could kill." That's precisely what happened to the unfortunate people who were turned to stone when they crossed paths with the mythological Medusa. The basilisk, the legendary "King of the Serpents," also had the same ability to instantly kill anyone who dared look into its eyes. In Mediterranean culture, the power to petrify and poison just by looking someone in the eyes was often the most notorious ability of a black magician. Ancient Rome had laws which outlawed fascination, a bewitching glance that could kill humans, animals and crops. Renaissance philosophers such as Marsilio Ficino said that sorcerers (venefici) gave people fevers and caused madness by sending out vapors from the eyes which infected the blood. Additionally, demonologists all the way up to the 18th century usually accused witches of cursing with their eyes (the other half of the time they were accusing them of stealing penises).
In his book On the Will in Nature, philosopher Arthur Schopenhauer (paraphrasing the 16th century alchemist Paracelsus) wrote, "No armour can avail against magic, for it wounds the inner man." In magical circles—the evil eye falls under the category of 'invisible' assault, a method of directing an envious or mean-spirited will against another. This is the worst kind of behavior, as it involves covertly destroying the character, reputation and overall well-being of someone else. Just like love (traditionally thought of as the most powerful form of magic), hatred is an infectious and tangible force that can create a whole host of psychological and physical disturbances. Here are a few techniques and remedies to counter the effects this sorcery.
Need stronger defense? Take our Practical Psychic Protection course here.
1. Wield an Amulet
The Romans were particularly fond of pendants and sculptures of flying phalluses. The Greeks also placed Gorgon sculptures on their doorways and even carved them into their weapons and armor. Today, it's fairly easy to find Hamsa and Fatima amulets in Middle Eastern and North African countries like Morocco, Sicily and Israel. In Morocco, for example, the talisman aesthetic is so common that you can find it in parts of commercial architecture and even in domestic accessories like rugs, and blankets. What's great about amulets is that they're focal points of sustained social and personal beliefs. Their efficacy against the eye may stem in part from their power as societal symbols for positivity.
2. Practice With Mirrors
The gorgon Medusa was killed when the Greek hero Perseus used a mirror shield to reflect her petrifying glance back onto her. Naturally, the shield was a gift from Athena, the goddess of wisdom. Similarly, in the Renaissance epic poem Jerusalem Delivered, the protagonist Rinaldo's enchantment is removed when he glances into his fellow knight's mirror shield. All these tales hint at the dispelling effect of the mirror and its ability to be truthful to reality. This doesn't mean you need to flash your hand-held mirror around, but it does mean that you can use mirrors to work on your own gaze. Victorian guides to mesmerism and hypnosis manuals often advise the practice of staring into mirrors to strengthen the will. Another technique is to refuse to look at your oppressor in the eye, and instead look into the space between his or her eyebrows. Like the mirror, which refracts and reflects, averting your eyes is a method of distortion, cognitively severing the visual bond between you and your abuser. One shared look is often the preemptive act that leads to all types of attachment. That's why some of have experienced love at first sight or just happened hook-up after one passing glance.
3. Memorize Charms
There are plenty of poems for protecting against the eye. Some rhyme, others have a solid rhythm, but all of them seek to empower the individual, conjuring up a verbal 'defense shield.' Here's an excerpt from the Carmina Gadelica, an Irish collection of incantations first gathered in the 19th century:
I TRAMPLE upon the eye,
As tramples the duck upon the lake,
As tramples the swan upon the water,
As tramples the horse upon the plain,
As tramples the cow upon the 'iuc,'
As tramples the host of the elements,
As tramples the host of the elements.
Power of wind I have over it,
Power of wrath I have over it,
Power of fire I have over it,
Power of thunder I have over it,
Power of lightning I have over it,
Power of storms I have over it,
Power of moon I have over it,
Power of sun I have over it,
Power of stars I have over it,
Power of firmament I have over it,
Power of the heavens
And of the worlds I have over it,
Power of the heavens
And of the worlds I have over it.
Note the repetition of "I," and the constant comparison of the individual's abilities to great energies and powers in nature. Something like this can be said underneath your breath, or even while you're doing some kind of ritual after someone's casted the eye against you.
4. Act a Fool
Perhaps the greatest neutralizer of malice is comedy. There are good trolls and bad trolls, but the good ones are able to diffuse a brewing situation with a mix of wit, sarcasm, and obscenity. The Cynic philosopher Diogenes made a name for himself because of his unapologetic pursuit of virtue and his total disregard for social norms. He is said to have spent most of his life living like a bum, publicly criticizing officials, and running around naked. He did this as an attempt to break the spell of everyday materialistic life. In the Roman festival of Saturnalia (which is distantly related to Carnival) the King of Saturnalia was a changer of personas. As long as the event lasted, he was free to humiliate and act subversively to anyone he wanted, regardless of their social station.
The Fool Tarot card also carries some of these traits. Some interpretations of the card affirm that The Fool represents pure irrationality and unpredictability. Inspired by pure spirit, The Fool is ecstatic—even shamanic, not bound by earthly standards. Thus it makes sense that thrusting the middle finger and even flashing one's buttocks were popular methods of counter magic in the ancient world. A lighter way of negation is direct confrontation. If somebody is trying to influence you through unseen means, you can immediately vocally expose him or her and in doing so dispel the curse by appealing to the universal emotion of shame.
5. Get Grounded
This is probably the most important point. Sometimes you just need a refresher, some downtime to build up your psyche. If you conceive of the spirit as something like blood which needs nutrition and circulation, then that means it would be beneficial to travel and do some kind of exercise. You could also change the "personality" of a place by redecorating, lighting incense and making offerings to whatever things are most important in your life. Grounding is a way of returning back to the basics, of setting up a safe space to heal and recharge. An easy idea is cooking. Once you're sautéing a meal and you can smell the onions, garlic, and wine—whatever worries or thoughts you might have accumulated during the day usually fade away.
To make sure you're fully covered, take our Practical Psychic Protection course here.
(Image via.)