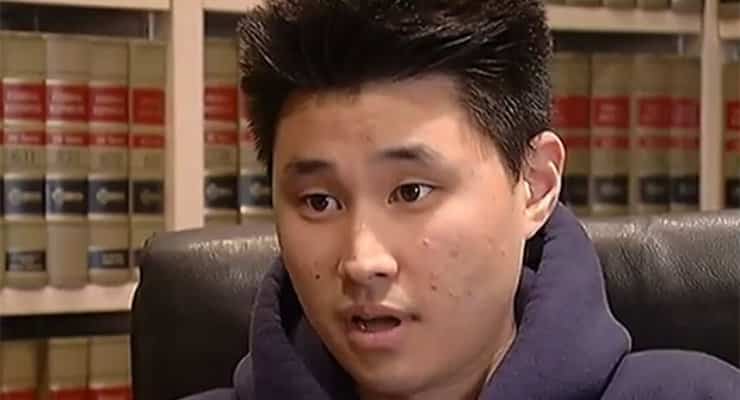 Two years ago, UC San Diego student Daniel Chong was detained for four days without food or water after a DEA drug sweep. His story is harrowing—and enraging.
Four employees of the Drug Enforcement Agency saw Daniel Chong in his cell during a five day ordeal in which he was detained for five days without food or water, according to a report summary released by the Justice Department earlier this week.
The DOJ's inspector general faulted several DEA employees for how they handled the April 2012 incident that left Chong in critical physical condition, cost the agency a $4.1 million settlement, and led to nationwide changes in the agency's detention policies and procedures.
Daniel Chong was a 24-year-old engineering student at UC San Diego at the time of the incident. It was the right place, but the wrong time: Chong was apprehended by a DEA task force the the morning of April 21, 2012 along with six other individuals as part of a massive drug sweep.
Chong told investigators that he was an avid pot smoker and that he had gone to the apartment where the sweep took place that Friday night for a 4/20 celebration and decided to spend the night.
RELATED: Gary Webb, the Journalist Who Busted the CIA for Selling Crack
After being interviewed by agents at the DEA field office on Saturday, Daniel Chong was told he would be released without charges and escorted to his home.
And that's when things got really fucked up.
Daniel Chong was forgotten about, and had to spend the next four and a half days in a five-by-10-foot cell handcuffed without food, water or toilet. He ingested methamphetamine that he found stashed in the cell and drank his own urine in a desperate bid to stay alive. His screams for help went unanswered, he said.
He was near death on Wednesday afternoon, when he was finally discovered covered in his own feces, after he slid a shoelace under the door to get someone's attention. He had carved the letter "S" into his arm using his broken eyeglasses, apparently the start of a message to his mother that he did not have the strength to complete. Halfway through the ordeal, the lights were turned off in his cell, and Chong had to spend 2 ½ days in total darkness.
Upon his discovery, Daniel Chong was rushed to the hospital where he was treated for dehydration, kidney failure, and a perforated lung from eating broken glass. He spent four days in the intensive care unit.
In the summary of its investigation, the DOJ inspector general determined that the fault is on the shoulders of four DEA employees. It paints a negligent bureaucratic environment where there are probably more regulations for how long food is allowed to be left in the break room fridge than how to properly process and release detainees. It's disturbing to say the least:
The [Office of the Inspector General] concluded that the [DEA San Diego field office] holding cell area lacked any recordkeeping methods to track detainee movements. Additionally, although there was video coverage of the holding cell area, the individual cells did not contain cameras, and the single video camera that was present could only be monitored by an employee not in the holding cell area, and that employee was not assigned solely to holding cell duties and had many other responsibilities. There also was no official DEA policy or training regarding the operation of the holding cell area, and no requirement that DEA personnel check the holding cells at the end of a day to ensure that all detainees had been properly processed, either for arrestor release. Moreover, DEA personnel were not required to sign-in and sign-out of the detention area, and there were no reliable electronic entry records for the relevant period because the door locking mechanism at the entrance to the detention area was not functioning properly. Accordingly, the OIG was not able to identify from electronic entry records or logs DEA personnel that entered the holding cell area during Chong's detention.
What's most disturbing is the banality of it. The inspector general's summary sounds as if they are talking about a piece of paperwork that went missing in transit for approval, not a human being who suffered at the hands of abject negligence. The report might as well have read, "We apologize for the inconvenience, but there is currently no procedure for locating missing supply requests. You will have to resubmit your order for approval before our Finance and Personnel department can complete the request. If this is an urgent matter, however, you can submit an S2-29 Approval Override From for approval before resubmitting your request. Bear in mind that approvals typically take 3-5 business days to process before they can be overridden."
Radley Balko, in a spot-on opinion piece at The Washington Post, wrote:
Chong wasn't forgotten. He was ignored. The former would merely be callous incompetence. The latter is what happens when you're conditioned to see drug offenders as less than human. To see Chong as a man dying in a cell would require some empathy. Drug Enforcement Agency agents aren't trained to empathize with drug offenders. Quite the opposite. Because Chong is just a lowlife addict, it's easy to pass him off as someone else's responsibility. For the four DEA agents who saw Chong suffering, coming to his aid — hell, just preventing him from dying — wasn't the moral obligation of a fellow human being, but a task to be assigned within the bureaucracy. That task hadn't been assigned to them. So hey, it wasn't their job.
Balko reminds us that Chong was one of the lucky ones, and goes on to list detainees who have died because of this kind of inhuman negligence. Last year, Michael Saffioti died in a Washington state jail cell after being arrested for pot possession. He was fatally allergic to dairy, and was seen on surveillance video asserting his condition to a guard over his breakfast. In order to demonstrate, he took a few bites and began having a reaction. He asked to see a nurse, but was sent to his cell, accused of "faking it." He was found dead about an hour after eating.
Before Saffioti, there was Jonathan Magbie, a quadriplegic who died after being left unattended in a D.C. jail cell during a 10-day sentence for pot possession. And just in the past week, there has been a gravely ill cancer patient rushed to the hospital during his trial for growing the marijuana he used to treat his symptoms; a raid in which a Florida man was shot and killed in his private residence over $200 in alleged pot sales to an informant; and a Chicago cop who helped his daughter-in-law grow pot to treat the symptoms of his cancer-stricken granddaughter, only to have said daughter-in-law arrested after his granddaughter died.
And then there's Baby Bou Bou, the toddler who had a hole blown in his chest after a SWAT team broke into a house he and his family were staying and a flashbang grenade fell into his crib. It was during a drug raid in which none of the wanted suspects were anywhere near the home. Despite the minivan in the driveway and the toys in the yard, officers claim to have had no way of knowing children were present.
We are dealing with a living Kafkaesque nightmare bureaucracy filtered through a TV cop fantasy. Human life means little to the faceless agencies that regulate the law, and means even less to the cretins that enforce it. It is the perfect admixture to cause senseless death and harm to innocent civilians and even children, like Daniel Chong and Baby Bou Bou. Those responsible for these injustices must be held accountable for their negligence, not written up or suspended with pay.
Thankfully for Chong and Baby Bou Bou, they both survived their ordeals.
Chong is back in school now, and wants to put the whole thing behind him. He's changed his major to economics, and like most undergraduates, cannot really see past graduation.
"I have no real plans," he told the Los Angeles Times, "just to finish school and try to figure it out."
At which point, Chong will enter the wonderful world of student debt, a prison cell from which there is no escape.