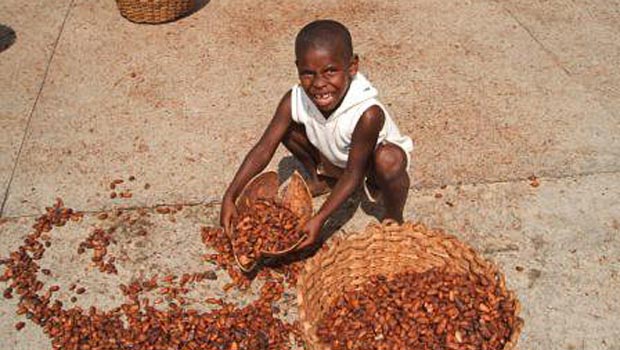 Lawsuit alleging that Nestlé, ADM and Cargill benefit from child slavery in their cocoa supply chain in back in court, throwing new light on decades-old concern that the chocolate industry is built on the backs of slave children
Swiss multinational Nestlé, the largest food company on the planet—and anybody who consumes their products—has a chocolate problem. More specifically, they have a child slavery problem. Since the late 1990s, allegations have continually surfaced that the company benefits from slave children in its supply chain, and that slave children are used in its cocoa production in West Africa.
The allegations—including reports from UNICEF and the US State Department—brought enough attention and heat, including coverage from the BBC, that Nestlé's CEO Bradley Alford signed an international agreement to end cocoa child labor in 2001, but by 2005 had not met the agreement's deadline for eliminating the worst child labor offenses from the company's supply chain.
In the same year, the International Labor Rights Fund filed a class-action lawsuit on the behalf of three children from Mali who claimed that between 1994 and 2000 they had been lured into Côte d'Ivoire by child traffickers promising them easy work for good pay, subsequently enslaved on a cocoa plantation and regularly beaten. The lawsuit was later amended to name three companies as complicit in the chocolate-production slave trade: Archer Daniels Midland, Cargill and Nestlé itself.
RELATED: Meet the 25 Billionaires Who Control Everything on the Planet
According to the children's lawyers, "Plaintiffs, aged 12 to 14 when first forced to work as child slaves, had to work 12 to 14 hour days with no pay. They often worked with guns pointed at them, and were given only the bare minimum of food scraps… Plaintiffs were locked in small rooms at night with other child slaves so they could not escape the plantations. They were whipped and beaten by the guards and overseers when the guards felt they were not working quickly or adequately."
One of the three children (now adults) testified that "I tried to run away but I was caught… as punishment they cut my feet and I had to work for weeks while my wounds healed."
In September 2010, the lawsuit was thrown out by the US District Court for the Central District of California—not because the claims were found invalid, but because the court determined that corporations could not be held liable for violations of international law. (Despite the fact that courts in Côte d'Ivoire are so deeply corrupt that a trial in those countries would be a joke.)
However, after the US Supreme Court ruled that international corporate abuses could be tried in US courts, the plaintiffs have won the ability to show that ADM, Nestlé and Cargill aided and abetted child trafficking under the "actus reus" standard.
Whether any of the corporations named as defendants will be penalized, or will effectively end the use of child labor in their supply chains, remains to be seen. Nestlé has planned new monitoring programs after the Fair Labor Association found lax overview of human rights abuses in its internal reporting. A press release on Nestlé's own Web site states that "Nestlé and its partners will involve communities in Côte d'Ivoire in a new effort to prevent the use of child labour in cocoa-growing areas by raising awareness and training people to identify children at risk, and to intervene where there is a problem."
Notably, this puts the responsibility on local growers instead of Nestlé itself.
RELATED: The World vs. Monsanto: A Short History of the Battle Against the Most Evil Corporation on the Planet
José Lopez, Nestlé's Executive Vice President for Operations, states that "The use of child labour in our cocoa supply chain goes against everything we stand for. As the FLA report makes clear, no company sourcing cocoa from Côte d'Ivoire can guarantee that it doesn't happen, but what we can say is that tackling child labour is a top priority for our company."
Nestlé purchases 1/10th of the cocoa produced around the world; 1/3 of that comes from slavery-rife Côte d'Ivoire.
While the first world regularly congratulates itself for eliminating slavery, using this as a marker of civilizational progress, the data shows a different story: It's simply been outsourced by multinationals, the slavery kept in developing world countries where we don't have to see it up close.
(Check out a documentary on slave children in the West African cocoa production industry below.)