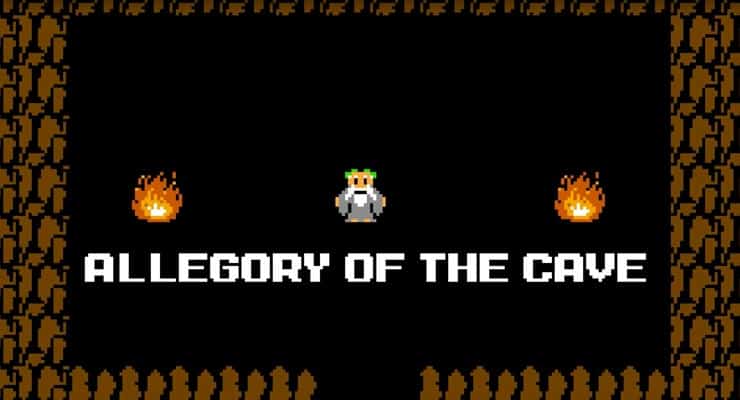 Plato's Allegory of the Cave meets the Legend of Zelda in this hilarious and profound philosophical mash-up from 8-Bit Philosophy
Check out the video below, done by 8-Bit Philosophy, which depicts Plato's Allegory of the Cave, possibly one of the most well-known allegories in Western philosophy, which posits that man lives in a "cave" of his perceptions in which he never directly experiences the real world. Plato's Cave allegory and thinking along these lines helped construct underpinnings for Western thinking which underly everything from the Gnostic/Neoplatonic/Qabalistic/Hermetic line of thinking that ran through the first two millennia AD to the "Matrix" movies to, well, the massive 1970s Manhattan swingers' club Plato's Cave.
The Allegory of the Cave, also entitled Analogy of the Cave, Plato's Cave or Parable of the Cave is presented by the Ancient Greek philosopher Plato in the Republic to compare "…the effect of education (παιδεία) and the lack of it on our nature"…
RELATED: The Psychonaut Field Manual: A Cartoon Guide to Chaos Magick
Plato has Socrates describe a gathering of people who have lived chained to the wall of a cave all of their lives, facing a blank wall. The people watch shadows projected on the wall by things passing in front of a fire behind them, and begin to designate names to these shadows. The shadows are as close as the prisoners get to viewing reality. He then explains how the philosopher is like a prisoner who is freed from the cave and comes to understand that the shadows on the wall do not make up reality at all, as he can perceive the true form of reality rather than the mere shadows seen by the prisoners.
Make sure to watch for the guest appearance of a few key graphics from Super Mario Brothers 3. Thankfully, no 8-Bit renditions of the 1970s Plato's Cave were included.
[is_visitor]Check out our free guide to chaos magick here.[/is_visitor][is_lead]Start learning magick and occultism at Magick.Me, our online school for chaos magick.[/is_lead][is_customer]Start learning magick and occultism at Magick.Me, our online school for chaos magick.[/is_customer][is_subscriber]Start learning magick and occultism at Magick.Me, our online school for chaos magick.[/is_subscriber]