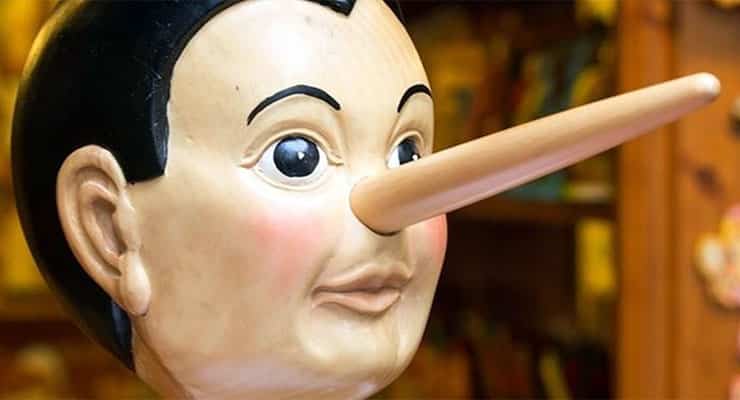 Researchers find that unconscious responses are far more accurate at detecting lies than the rational mind
We'd all like to think we can spot when somebody is lying to us. In fact, we may look for behaviors that suggest a person is being less than truthful, like shifty eyes or nervousness. But according to research conducted at UC Berkeley's Haas School of Business and just published in a journal of the Association for Psychological Science, the conscious mind may not be all that good at detecting lies—in fact, data suggested that people tend to detect lies at about a 54% accuracy rate only. However, the researchers then tested subjects' automatic, unconscious responses to liars—finding that non-conscious, instinctual responses, including automatic reactions to language patterns, predicted lies with much greater accuracy.
This should come as no huge surprise—it has long been known that the unconscious mind is radically more powerful than the conscious mind, which is all-too-limited in cognitive ability.
To maximize survival and reproductive success, primates evolved the tendency to tell lies and the ability to accurately detect them. Despite the obvious advantage of detecting lies accurately, conscious judgments of veracity are only slightly more accurate than chance.
However, findings in forensic psychology, neuroscience, and primatology suggest that lies can be accurately detected when less-conscious mental processes (as opposed to more-conscious mental processes) are used.
RELATED: 10 Ways to Protect Yourself From NLP Mind Control
We predicted that observing someone tell a lie would automatically activate cognitive concepts associated with deception, and observing someone tell the truth would activate concepts associated with truth. In two experiments, we demonstrated that indirect measures of deception detection are significantly more accurate than direct measures.
These findings provide a new lens through which to reconsider old questions and approach new investigations of human lie detection.
(More at Medicalxpress)
[is_visitor]For more on tapping the power of the unconscious mind, check out our free guide to chaos magick here.[/is_visitor][is_lead]To fully tap the power of the unconscious mind, start learning magick and occultism at Magick.Me, our online school for chaos magick.[/is_lead][is_customer]To fully tap the power of the unconscious mind, start learning magick and occultism at Magick.Me, our online school for chaos magick.[/is_customer][is_subscriber]To fully tap the power of the unconscious mind, start learning magick and occultism at Magick.Me, our online school for chaos magick.[/is_subscriber]
(Image via.)