John Shirley, America's most provocative science fiction author, kicks off our first podcast episode with a talk on G. I. Gurdjieff, his book "New Taboos," private prisons and the end of the world!
We're proud to present the first Ultraculture podcast! For Episode One, I sat down with the legendary (and legendarily confrontational) science fiction and horror author John Shirley, author of over 30 books and 10 screenplays—including The Other End, Everything is Broken, the A Song Called Youth trilogy and perhaps his most known work, the screenplay for the 1993 film The Crow. He's fronted punk bands and written lyrics for Blue Öyster Cult.
Via Wikipedia:
John Shirley (born 10 February 1953) is an American writer, primarily of fantasy and science fiction and songwriting. He has also written one historical novel, a western, about Wyatt Earp, Wyatt in Wichita, and one non-fiction book, Gurdjieff: An Introduction to His Life and Ideas. Shirley has written novels, short stories, TV scripts and screenplays, and has published over 40 books and 8 short-story collections. As a musician, Shirley has fronted his own bands and written lyrics for Blue Öyster Cult and others. An extensive compilation of songs by John Shirley, "Broken Mirror Glass" was released by Black October Records.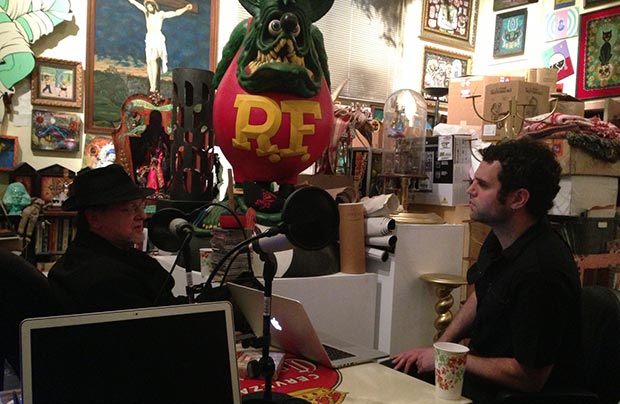 His new book—out June 1 from PM Press—is called New Taboos, and includes not only the text of his recent TEDx talk in Brussels (embedded below) but a new short story, "A State of Imprisonment," which provides a brutal speculative look at where America's private prison industry could go.
We met up at La Luz de Jesus art gallery in Hollywood, California, a centerpiece of the Los Angeles art scene and a cultural treasure. Over the course of forty minutes, we talked about the horrors of the private prison industry and how they're being swept under the rug; the role of social media in raising social conscience; and his interest in the 20th century mystic G. I. Gurdjieff, who taught that mankind is in a state of trance or asleep, and that to be fully human, we must wake up.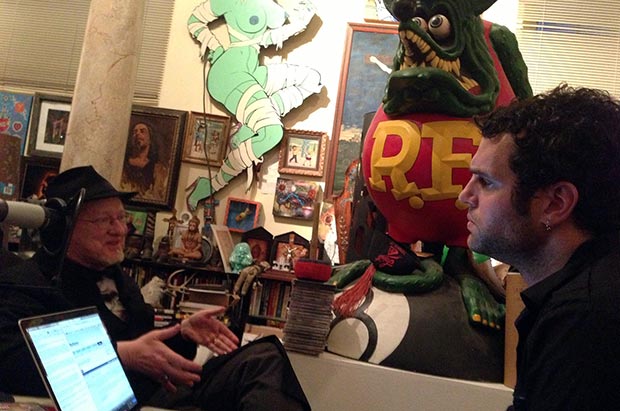 (To make sure you get future episodes of the show in a timely way, please subscribe to the Ultraculture podcast here!)