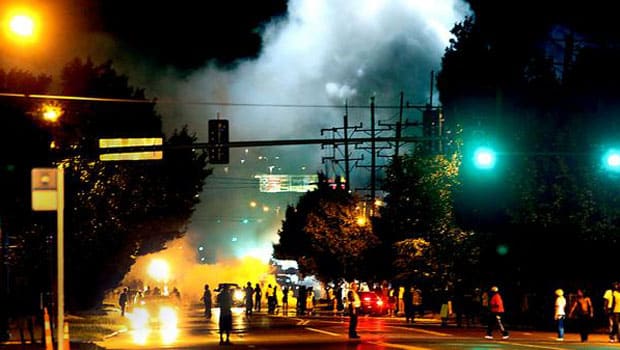 The aftermath of the fatal shooting of unarmed black teen Michael Brown in Ferguson, Missouri has turned the St. Louis suburb into a veritable war zone. Ultraculture covers the basics of what you need to know.
The situation in Ferguson, Missouri following the fatal shooting of unarmed black teen Michael Brown has escalated overnight from local tragedy to national spectacle. Citizens have demonstrated in peaceful protests, riots have broken out across the city, the police have transformed into a paramilitary task force, crowds have been gassed and journalists have been arrested. Here's a breakdown of the basics you need to know:
1. The Shooting Took Place on Saturday, August 9
Michael Brown was on his way to visit his grandmother. According to eyewitnesses, he was walking in the middle of the street with a friend, Dorian Johnson, when a squad car pulled up and demanded that they get on the sidewalk. A verbal confrontation ensued.
Police say that Brown attacked the officer and attempted to take his gun. Multiple witnesses, including Johnson, say that the officer tried to pull Brown into the squad car, at which point Brown attempted to flee with his hands in the air.
The officer "shot again and once my friend felt that shot, he turned around and put his hands in the air," said Johnson. "He started to get down and the officer still approached with his weapon drawn and fired several more shots."
The officer remains unidentified.
Brown had recently graduated from Normandy High School and was set to begin classes at Vatterott College in Missouri, on Monday, August 11, only two days after his death.
2. Protests Began Almost Immediately
The working class suburb of about 20,000 residents responded almost immediately to the shooting.  The New York Times reports:
Hundreds of people gathered at the scene of the shooting to question the police and to light candles for Mr. Brown, who was planning to begin college classes on Monday.
Residents held signs with statements like, "No killer cops in our community." Residents were heard chanting "Don't shoot" and "We want answers" during a televised news conference with St. Louis County police chief Jon Belmar.
A photograph of Brown's step father, Louis Head, surfaced on Twitter holding up a sign that said "Ferguson police just executed my unarmed son."
What the hell is going on in Ferguson?! pic.twitter.com/S5Yjnns6bU

— Tammie Holland (@TammieHolland) August 9, 2014
A candlelight vigil was held on Sunday night in Brown's memory, with a crowd of thousands turning out.
3. How Did the Police Respond?
The protesters at Sunday night's vigil were met by hundreds of police in full riot gear, armed with rifles, shields and K-9 units. The New York Times reports:
Witnesses described a peaceful protest that later turned volatile, and there were scattered reports of violence. Images and videos captured on cellphones and posted on social media sites appeared to show people spray-painting and looting a QuikTrip gas station and other stores. Rioters shattered the windows of the gas station and damaged several police cars, said Brian Lewis, a spokesman for the St. Louis County Police Department.
It was not immediately clear if anyone was injured or arrested during the protests.
Police are reported to have responded to the crowds with rubber bullets and tear gas on Sunday night, when protests continued through to Monday morning.
One Twitter user who says he served in the Army's 82nd Airborne Division remarked: "We rolled lighter than that in an actual warzone."
Protests and looting have been occurring daily in Ferguson since the shooting. The FAA declared the suburb a no-fly zone until August 18, thus barring news choppers from the area.
4. Reporters for the Huffington Post and Washington Post Were Arrested, and an Al Jazeera America News Team Was Tear Gassed
Politico reports:
Wesley Lowery, a Washington Post political reporter, and Ryan Reilly, a Huffington Post justice reporter, were arrested in a McDonald's shortly before 8 p.m. EDT. Police entered the restaurant and told patrons to leave, the reporters wrote on Twitter after their release. The police then asked Lowery and Reilly for their identification and, according to the reporters, arrested them because they weren't packing their bags fast enough.
Lowery alleges that officers "assaulted" him, writing on his Twitter account, "Officers slammed me into a fountain soda machine because I was confused about which door they were asking me to walk out of."
Lowery says that he and Reilly were released without paperwork or charges, and that officers refused to provide the reporters with their names.
On Wednesday night, a news team from Al Jazeera America was hit with tear gas.
Al Jazeera America President Kate O'Brien released the following statement on Thursday morning:
Last night at 9:30 CDT in Ferguson, Missouri, an Al Jazeera America news crew was reporting behind police barricades. They were easily identifiable as a working television crew. As they were setting up their camera for a live report, tear gas canisters landed in their proximity and police fired rubber bullets in their direction. Police continued to shoot after crew members clearly and repeatedly shouted 'Press'. Al Jazeera America is stunned by this egregious assault on freedom of the press that was clearly intended to have a chilling effect on our ability to cover this important story. Thankfully all three crew members are physically fine. We believe that this situation must be investigated along with those involving our colleagues at other media outlets.
5. Anonymous is Waiting
On Sunday, August 10 online hacktivist group Anonymous launched #OpFerguson, releasing the following statement:

On Wednesday, August 13 they released audio from the St. Louis emergency dispatch:

Some highlights from the audio were posted on the now-suspended @TheAnonMessage Twitter account include:
Officer calls in assistance for crowd control before mentioning a shooting. No EMS called in.
Officer's first move was to call for crowd control. Did not report shooting, did not call for EMS.
[Mike Brown's] body lay on the ground for hours. EMS won't be called for four more hours.
[Ferguson] PD claimed to not know what was going on but requested more units on the scene.
On the morning of Thursday, August 14, Anonymous released the identity of the officer they claim to be the shooter. The St. Louis County police department denied that the person identified by Anonymous is the officer involved in Michael Brown's death.
6. There is a Live Feed from the Protests in Ferguson on Reddit
Find it here.
(Image via St. Louis Post-Dispatch)