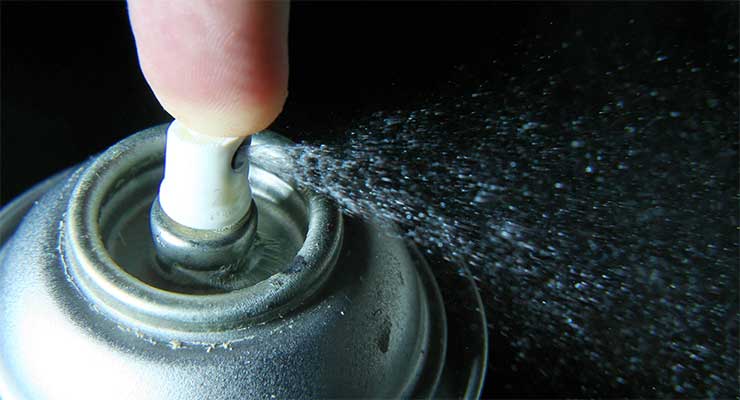 You may be able to spray your house with solar power dust composed of colloidal quantum dots soon
Despite the Koch Brother's best efforts to kill solar, solar power is the future of the grid—just not in its present form, massive solar panels, which are expensive to set up, hard to maintain, hard to clean and generally rough on their environment if installed in huge banks. While they do eventually pay off their investment, by feeding excess power back into the grid instead of taking it, which can be monetized, they're also unwieldy.
Luckily, paper-thin solar is coming—a truly disruptive technology that may completely change how we get power, making electricity cheap and plentiful without having to rely on coal or nuclear. And now there's and even newer candidate: spray solar, composed of colloidal quantum dots (the same technology that will eventually help create quantum computers, and which may even be produceable by bacteria).
Via Phys.org:
Kramer and colleagues have just invented a new way to spray solar cells onto flexible surfaces using miniscule light-sensitive materials known as colloidal quantum dots (CQDs)—a major step toward making spray-on solar cells easy and cheap to manufacture.
"My dream is that one day you'll have two technicians with Ghostbusters backpacks come to your house and spray your roof," says Kramer, a post-doctoral fellow with The Edward S. Rogers Sr. Department of Electrical & Computer Engineering at the University of Toronto and IBM Canada's Research and Development Centre.
Solar-sensitive CQDs printed onto a flexible film could be used to coat all kinds of weirdly shaped surfaces, from patio furniture to an airplane's wing. A surface the size of your car's roof wrapped with CQD-coated film would produce enough energy to power three 100-Watt light bulbs—or 24 compact fluorescents.
If this technology is indeed feasible and could be cheaply produced (for instance by bacteria production), we may be looking at a truly post-scarcity future, at least when it comes to electricity.