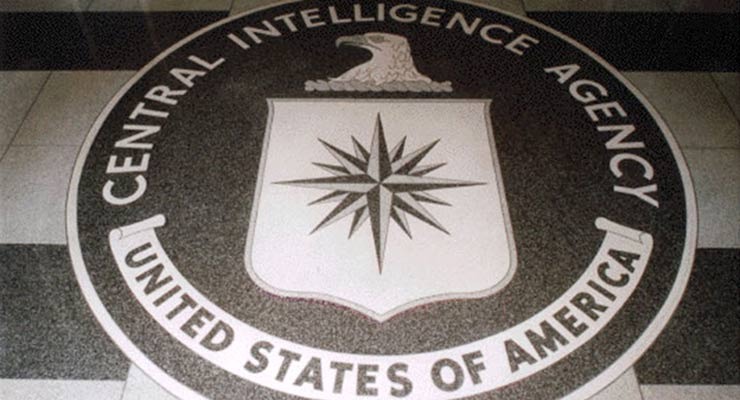 The CIA recently released more than 250 issues of their internal newsletter under the Freedom of Information Act. Here's four of the weirder ones.
Jeffrey Scudder was a veteran information technology specialist at the Central Intelligence Agency when, in 2007, he discovered the archives of the agency's in-house newsletter Studies in Intelligence. However, the documents were classified, so Scudder filed a Freedom of Information Act request.
At this point, everything went to hell. A Washington Post profile on Scudder reads:
His request set in motion a harrowing sequence. He was confronted by supervisors and accused of mishandling classified information while assembling his FOIA request. His house was raided by the FBI and his family's computers seized. Stripped of his job and his security clearance, Scudder said he agreed to retire last year after being told that if he refused, he risked losing much of his pension.
In response to a lawsuit filed by Scudder, the agency declassified and posted nearly 250 journal articles on their website. The declassified articles reveal the strange and surreal inner world of the agency and its employees.
Below are four of the more bizarre ones:
1. "How We Are Perceived"
"It came as a shock to learn that there seem still to be large numbers of well read and presumably intelligent US citizens who perceive that we are assassins, blackmailers, exploiters of sex and illicit drugs as well as the creators of our own foreign policy separate and distinct from that of the Department of State," wrote an anonymous service member in this 1986 essay. "How can it be that perceptions differ so radically from reality?
The essay alleges that leaks to the press coupled with "some of our acknowledged missteps" fed a trail of Soviet propaganda which eventually led to a misinformed American public. The State Department itself, along with military intelligence, harbored "misperceptions" about the CIA.
"We have the option of keeping mum and allowing the misperceptions to grow, or of tackling them head-on. We have only ourselves to blame if we do nothing to set the record straight," the essay reads. Apparently, not much has been done to "set the record straight."
Doesn't this read like a sociopathic ex-boyfriend wondering with a straight face why none of his ex-girlfriends will speak to him anymore after he put nude photos of them all over the Internet?
2. Leo Theremin—CIA Nemesis
Theremin was best known as the inventor of the eponymous instrument that was a staple of science fiction B-movies of the 50's. An early pioneer of electronic music, Theremin was also a Soviet spy. He survived the gulag and became a KGB researcher. His "very existence was a state secret." His greatest coup was placing a bug inside a wooden replica of the Great Seal of the United States that was given to the American ambassador in Moscow in 1945. The hidden microphone wasn't discovered until 1960.
3. "An Interview With NSA Director Lt. Gen. Michael V. Hayden"
In this pre-9/11 and pre-Snowden era, then-NSA director and future CIA director spoke of this agency's reputation for extreme secrecy:
Everything's secret. I mean, I got an e-mail saying, "Merry Christmas." It carried a Top Secret NSA classification marking. The easy option is to classify everything. This is an Agency that for most of its existence was well served by not having a public image. When the nation felt its existence was threatened, it was willing to cut agencies like NSA quite a bit of slack. But as that threat perception decreases, there is a natural tendency to say, "Now, tell me again what those guys do?" And, therefore, the absence of a public image seems to be less useful today than it was 25 years ago. I don't think we can survive without a public image.
When asked about the cooperation between intelligence agencies, his answer eerily foreshadowed the intelligence failures behind 9/11 and the ensuing hunt for Osama bin Laden:
Without getting too much into some really sensitive stuff, let's think about conducting operations against a major international terrorist leader…Think about two agencies, for illustrative purposes, 35 miles apart, trying to marry the data to get the son of a gun. And each of them saying, "I'll give you my finished reporting, but not my tickets." You cannot tell me that's the correct approach in the first year of the 21st century. We're like two foreign potentates, negotiating a transfer of prisoners, and we're both wrapping ourselves around our own tradecraft.
4. "Interview with Erna Flegel"
Future CIA chief Richard Helms spoke with a nurse who was stationed in Adolf Hitler's bunker in Berlin as Nazi Germany collapsed in 1945. Flegel was a "fanatical admirer" of her former employer, and gushed, "When Hitler was in the room, he filled it entirely with his personality—you saw only him, aside from him nothing else existed. The fascinating thing about him was his eyes; up to the end, it was impossible to turn away from his eyes."