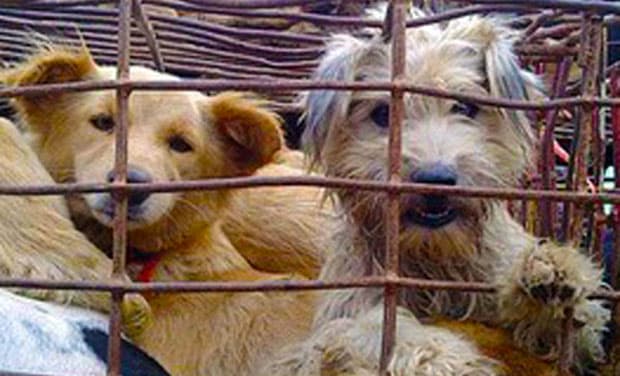 Dog Meat, Animal Cruelty and the Growing Outcry of Chinese Digital Activists
Imagine seeing a wire cage the size of a shopping cart stuffed with fifteen dogs. Huskies, German Shepherds, poodles and retrievers. All painfully unable to move, most unable to breathe and suffocating. Now imagine an entire flatbed truck full of dogs in those kinds of cages—927 dogs to be exact. This is what people in Chongquing, China, saw on March 2, 2013. The truck was bound for a slaughter facility, and the dogs were to be for human consumption. Many of the dogs were visibly ill and dying; some were already dead. More shocking is the fact that many were wearing collars with tags; clearly stolen family pets.
A peaceful but concerned group of citizens eventually surrounded the truck, asking for the release of the dogs. What ensued was to be a 50 hour standoff between them, dog meat traders and police. Amidst beatings, the activists set up a makeshift camp around the truck. They managed to unload the dogs as more people arrived on the scene as reinforcements. One woman found her lost Golden Retriever in one of the cages and was told she could not take him home as he was property of the meat traders. The woman had to buy back her dog from them as they announced they were prepared to let all the dogs die of "natural causes" by denying food and water. Volunteers had to give her dog IV fluids because he was very weak and unstable, as were all of the others.
In the end, with the help of the Chongquing Small Animal Protection Association, all 927 dogs were turned over to the activists. The traders could not provide documentation for each dog, since many were stolen, making it a "food safety issue." Sadly, at least twenty dogs had died, and the activists were forced to bury them at the site. They then called for a "civil and organized" intake of the dogs, with veterinarians providing assistance; donations of food, cleaning supplies, and suitable cages pouring in from around China.
The young Chinese generation coming of age now has grown up with the Internet and is taking a stand against what they see as the barbaric practices of the past. The use of smart phones, cameras and social media were instrumental to organizing a spontaneous, peaceful uprising of this scale.
In a country plagued with crippling pollution and corruption, it is almost unheard of for people to protest the abuse of animals. But the young Chinese generation coming of age now has grown up with the Internet and is taking a stand against what they see as the barbaric practices of the past. The use of smart phones, cameras and social media were instrumental to organizing a spontaneous, peaceful uprising of this scale, and has since led to at least two more public seizures of dog meat trucks, totaling over 3,000 dogs.
As I write this, more stories are pouring in from the volunteers, the majority of which have never protested anything before. At least one activist has been detained by the Yuhong Police Department and is now unable to be located. Facebook pages, Twitter accounts, petitions and websites are cropping up with pleas to the world: help us. We're outnumbered and need to know we are being heard.
This situation is not being reported by mainstream news in China, as much of China has traditionally preferred to keep the dog meat trade behind closed doors. During the Beijing Olympics, city restaurants were ordered to remove dog meat from their menus in an attempt to placate visitors' sensibilities. Dog meat has been eaten for centuries, but many Chinese today are vehemently against the eating of dogs and cats, one petition gathering 42,000 signatures against the practice. What is important about this uprising is that the people of China are demanding that the country establish animal cruelty laws. This is a turning point in the history of animal rights for China, as important as Stonewall or Rosa Parks was for gay and civil rights. If China is to move forward humanely, this is a crucial moment of truth.
If eating dogs seems gruesome, their treatment in transit, and subsequent slaughter is absolutely fiendish. Undercover videos show animals skinned alive, thrown onto piles of other dogs while still having the strength to hold their head up before succumbing. The dogs are skinned in front of other dogs to induce terror because of the false belief that the flavor and properties of the meat are enhanced by this. In transit, some dogs give birth to puppies and they are suffocated in the cages, fall to the road or die from the crushing filth. When unloading the trucks, the workers toss the cages off the top of the truck onto the ground, resulting in the dogs' necks and other bones being broken. They are denied water and food for days while waiting to be killed either by beating or genital electrocution, in the case of the fur trade. Regular people know these facts and are becoming more outspoken because of the dire need for reform. They are becoming activists simply because they are outraged by the very cruel and outlandish way these living creatures are being treated. Good people across China are saying "enough."
It's unclear what will happen next for this movement, but growing online support from around the world is gaining momentum. People realize what this could mean for the animals and people of China, as well as animal rights for other countries. The cacophony of voices on the front lines in this heartbreaking scenario are begging for help from people outside of China. Message boards are flooding with postings such as, "I am sincerely begging for help from the international organization that would give us a hand to STOP this disaster happen to our human being's best friends!" and "Please stop this crime and restore humanity! Let the world know what is happening in China! The volunteers on scene are fighting a very difficult war!" Right now, people in and outside of China can sign a petition to President Xi Jinping to establish animal cruelty laws and ban the dog meat trade. Sharing the activists' Facebook page and information also helps, as well as contacting local and national press and animal welfare organizations. It is up to all of us to do anything we can to help these brave people, truly underdogs in China's growing animal rights crisis.
Change: Stop Horrific Dog Meat Trade
Fight for Animal Cruelty Laws in China
Animals Asia