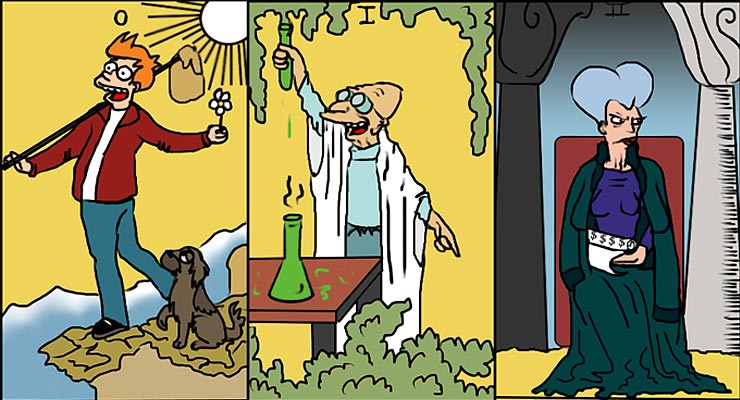 Check out this amazing Futurama Tarot deck, featuring all 22 Major Arcana!
One of the greatest things about the Tarot is how well it adapts to different imagery. The 22 Trumps of the Major Arcana are universal symbols. Their meanings are so deep that the art can change as long as the basic symbols stay the same. This "Futurama Tarot" proves it!
What's more, the symbols of the Tarot aren't just random symbols. They are true symbols from the collective unconscious, that appear in every culture. For instance, every culture has a "Magician" in its mythology. Every culture has a "Fool" or sacred trickster. Every culture has an "Emperor," an "Empress" and a pair of divine "Lovers." That includes ancient as well as modern cultures.
It also, of course, includes pop culture!
RELATED: Check Out This Gorgeous Twin Peaks Tarot Deck
That means that the symbols of the Tarot apply to any mythology, ancient or modern. We've even seen the entire Tarot and Tree of Life mapped to the plot of The Big Lebowski.
And below, you can see a Futurama Tarot, created by Redditor jlambertstl. You can judge for yourself how successful he was!
Some people might think that this cheapens the Tarot and dumbs it down. I think that it does just the opposite! Applying the Tarot to different imagery shows how universal Tarot symbols are. It proves that they are strong enough to change form, but keep their meaning.
RELATED: This Lisa Frank Tarot Deck is So Many Kinds of Perfect
It also shows what the Tarot is: a map of the collective unconscious. The Tarot shows how human beings think. It even shows that human beings from different cultures and time periods are similar. That's incredible. The more you study Tarot, the more you understand the human soul. The more you understand how similar humans are. And the more compassion you develop for your fellow humans!
How to Study the Tarot
The study of the Tarot is the study of the soul.
That's why, once you understand the basics, you realize that the images of the Tarot can be applied to almost anything (yes, even Futurama!)
Ultraculture has created an incredible course designed to help you Master the Tarot. Once you take the course, you'll not only be able to give a reading, but you'll know the Tarot so well that you'll even be able to use it as tool to unlock your own incredible potential as a human being. You'll even understand how to make your own deck.
It's one of our greatest and most in-demand courses, one our students are constantly raving about.