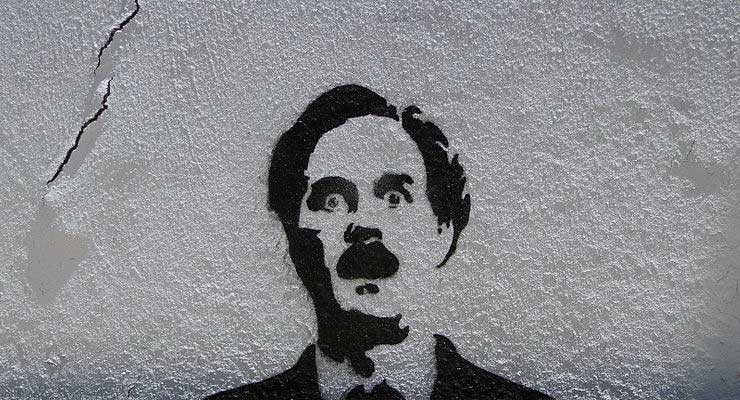 Watch a hilarious and informative video from Monty Python's John Cleese—truly a master class in sparking creative thinking, which could easily help with spirituality, meditation and magick.
In the video below, Monty Python's John Cleese unwittingly (and hilariously) outlines a good method for attaining a mystical or magical state, in which you can access higher realms of consciousness and bring out your natural creativity. He declares that creativity is not a talent or an ability that you either have or do not have, but is in fact a way of operating that allows a person to get themselves into what he calls a particular "mood." In this state of being, which sets the stage for a kind of childlike play or exploration, a person's intrinsic creative powers can function and blossom.
For students of the esoteric, there will be a lot of obvious parallels between Cleese's thoughts and meditative practice, setting up ritual space, and various methods of experimenting with consciousness.
Learn how to unlock primal inspiration by combining Magick and Art here.
Cleese categorizes two main modes in which people function—open, and closed. Creativity, he says, is not possible in the closed mode, which is the mode that we're in most of the time. The closed mode is stressful, anxious, strives for maximum productivity, is hardly ever calm or reflective, and is, significantly, devoid of much humor. The open mode, however, is relaxed, reflective, less purposeful, playful, and more humorous… even silly. It allows ideas and concepts to surface from within, on their own terms, rather than force them into being impatiently or according to a preconceived idea or structure. The two modes work together—the open mode for pulling ideas from the aether, and the closed mode for implementing them in the real world. Efficiency in creativity involves going back and forth into the two, and knowing when and how to do so.
So, how to do so?
Cleese outlines five essential elements to help you get into the open mode:
1. Space.
The creation of a closed off space, separate from the demands of everyday life. A quiet place, where you will be secluded and undisturbed. This is very similar, as students of the esoteric will know, to creating sacred or ritual space.
2. Time.
You must be in your designated space for a specific amount of time, sealed off from day-to-day routines. If you're successful in quieting your mind (read: good at meditation) and escaping the closed mode, the remaining time can then be spent in the open mode. Cleese suggests an arrangement of 30 minutes to quiet the mind, and at least an hour afterwards spent in the open mode.
3. More Time.
Yes, a second installment of time. This installment is for sticking with those open-mode ideas longer, pondering them and letting them take shape and grow organically. In this process, ideas become more original and end up shaping themselves. Don't just stick to the first idea that comes to you, and end it in a predictable manner. Let it morph and stretch; let it become something more than a cliché.
4. Confidence.
Do not fear making mistakes. Experiment, play and be open. Don't strangle your creativity with ideas of what you should or shouldn't be doing. Be illogical and make "mistakes," while keeping your mind at least somewhat reined in and focused on the task at hand. In the open mode, nothing is wrong. Let yourself whittle down what you don't like later, when you come back to the closed mode.
5. Humor.
Cleese's view is that humor gets us from the open mode to the closed mode quicker than anything else. It's playful, and it instantly frees the spontaneous mind from the solemn cage that is the closed mode. Giggle and make a fool of yourself in your secluded space. Students of modern magical practice will know the effects of this practice extremely well.
He then goes on to say how your unconscious mind will then reward you—likely not instantly, but maybe in the shower the next morning, or when you're driving to work. Out of the blue, an idea will pop into your head, right from the aether. He also briefly talks about how to strengthen your mental powers by breaking down rational thought and picking up the pieces to form something new, in a way that is strikingly similar to the cut-up method.
Cleese ends with a scathing satire of those who hold power, in a style befitting of the best Monty Python skits. As he adopts the persona of a CEO pontificating on the dangers of creativity and humor, while instructing his colleagues to crush the creative abilities of their subordinates, we are reminded of just how important creativity and humor are, and just how powerful a force for change they can be. It's definitely worth a watch to the end, just for that gem alone.
Learn how to unlock primal inspiration by combining Magick and Art here.
(Image via.)