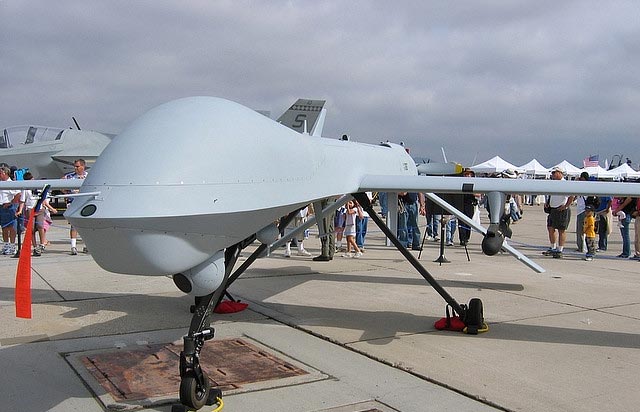 Death by Drones Considered Preferable to Guantanamo by US Government, Lawyer Reveals; Second Guantanamo Lawyer Turns Up Dead
According to the Associated Press, the US Navy is inaugurating its first squadron of drones today. Its name? "The Magicians." (Insert "are you a wizard?" joke here.)
The Navy is inaugurating its first squadron with unmanned aircraft, formally adopting drone technology amid debate over its growing use in warfare.
Military officials will launch the maritime strike squadron called "Magicians" on Thursday at the Naval Air Station North Island base on Coronado, near San Diego.
The squadron will have eight manned helicopters and a still-to-be-determined number of the Fire Scout MQ-8 B, an unmanned helicopter that can fly 12 continuous hours, tracking targets. Lt. Aaron Kakiel says the squadron will be aboard the Navy's new littoral combat ship in about a year.
Meanwhile, as Obama publicly pledges yet again to close down Guantanamo, the Guardian reports on the dark underbelly of that story: the lawyer who drew up the White House's policy on drone strikes has stated that Obama overuses drone strikes specifically because he's reluctant to send enemy combatants to Guantanamo (avoiding Bush's bad PR?) and would rather just kill them. US drone strikes have now killed over 4,700 people in four countries.
Obama yesterday released a statement for the US National Day of Prayer urging Americans to "reflect on the sacredness of life."
Despite the Obama administration's public claims to the contrary, the Guardian also reports that "a senior lawyer now advising Barack Obama on the use of drone strikes conceded that the administration's definition of legality could even apply in the hypothetical case of an al-Qaida drone attack against military targets on US soil."
Also reported this week, another lawyer connected to Guantanamo, 38-year-old Andy P. Hart, a federal public defender who was part of the team urging Obama to take action on the hunger strike currently taking place in Guantanamo, was found dead of an apparent suicide.
An attorney who represented prisoners detained at Guantanamo Bay was found dead last week in what sources said was a suicide.
Andy P. Hart, 38, a federal public defender in Toledo, Ohio, apparently died of a self-inflicted gunshot wound. Hart left behind a suicide note and a thumb drive, believed to contain his case files. It is unknown where Hart died, what the suicide note said or whether an autopsy was performed.
Hart's death comes amid escalating chaos that has engulfed Guantanamo over the past three months—from a mass hunger strike to military commissions and renewed pressure on the White House to shut down the prison facility. Hart was one of three-dozen Guantanamo attorneys who signed a letter in March urging Secretary of Defense Chuck Hagel to take immediate action and bring about an end to the hunger strike.