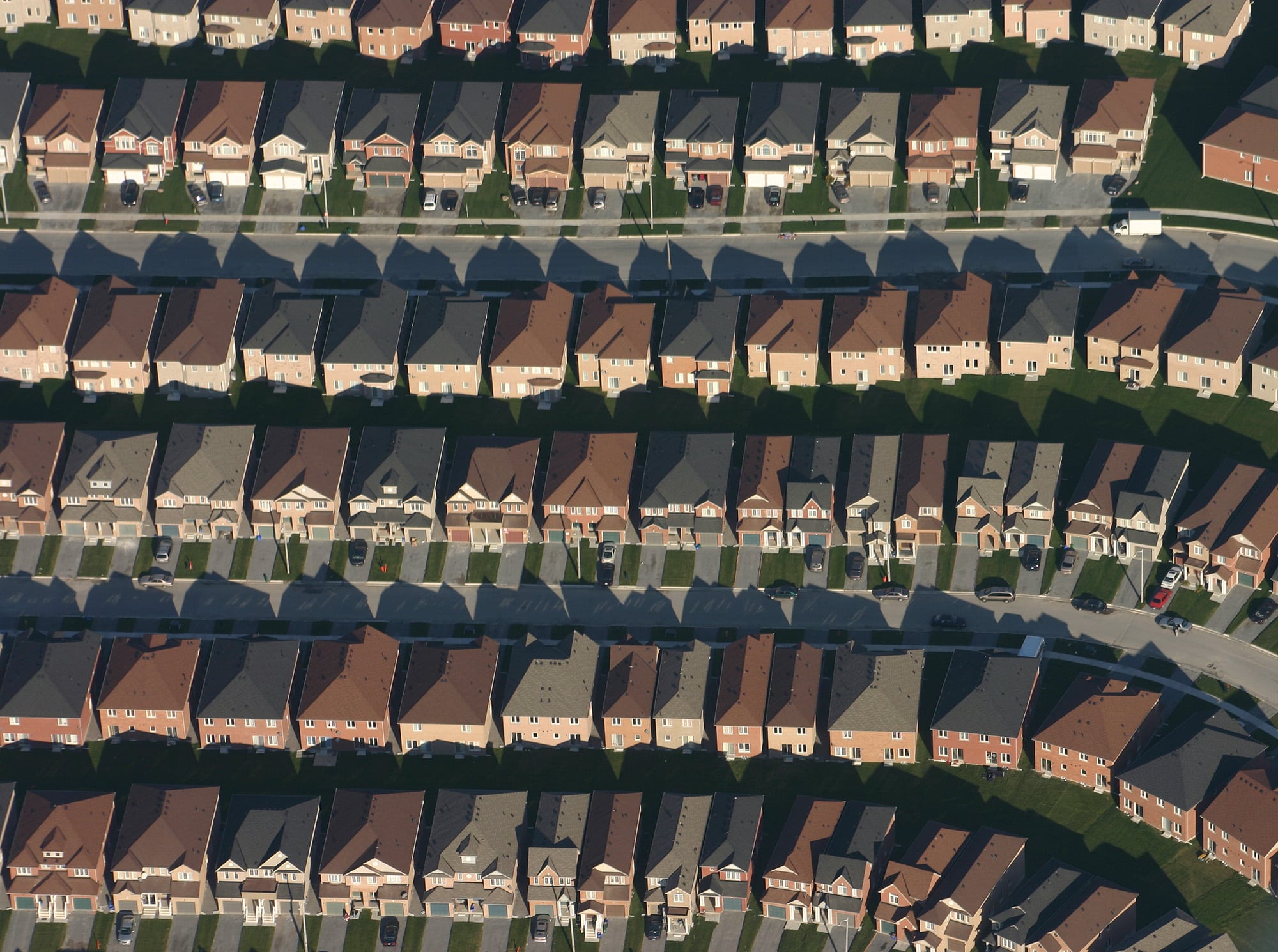 Round Your Weird Friends Up, Grab a McMansion or Five, and Occupy a Foreclosed Suburb
It's very likely that within a few years, there are going to be whole sections of America plastered with one pre-bubble McMansion after another that never found occupants.
Therefore, why hang out in San Francisco or New York paying $3K for a shoebox apartment and the rest of your paycheck on an iPhone to Instagram your damn enchiladas when you and your friends could, with a little bit of that old-fashioned American settler spirit and some good old gumption, go start your own weirdo empire out in some abandoned suburb?
I can imagine, for instance, whole sectors of America occupied by die-hard Burners, trained by their forays to Black Rock City to brave the elements and practice sustainable, self-sufficient existence, creating their own version of the American suburban dream.
According to Grist, we're looking at 40 million (!) unoccupied McMansions:
Americans, especially generations X and Y, want shorter commutes, walkability and a car-free existence. Which means that around 40 million large-lot exurban McMansions, built primarily during the housing boom, might never find occupants.
Only 43 percent of Americans prefer big suburban homes, says Chris Nelson, head of the Metropolitan Research Center at the University of Utah. That mean demand for "large-lot" homes is currently 40 million short of the available stock — and not only that, but the U.S. is short 10 million attached homes and 30 million small homes, which are what people really want.
The 60s saw the rise of communes that mostly failed due to issues arising from lack of space, boundaries and resources: transplant that same spirit to some midwestern cul-de-sac with houses for all, and what might happen?
You can already buy foreclosed houses in the most devastated parts of America, like the outskirts of Detroit, for a few months' rent on an apartment in a major city. That's likely a condition that's only going to increase.
Here's an unfairly snotty Gawker article that nonetheless contains a key piece of info: students are already ganging up and splitting foreclosed McMansions instead of renting dorm rooms, and paying to the tune of $250 each in rent. And that's not even squatting—that's legitly paid-up ones in a college town in California.
So the smart ones cluster together (solidarity) and head for the subdivisions, plunking down $250 or $350 per person to rent out one of the many foreclosed-upon castles and enjoy Jacuzzis, chandeliers, and other luxuries. "I mean, I have it all!" says Merced senior Patricia Dugan—who's majoring in marketing, a practical field.
Previously on the blog, we talked about how Millennials are rejecting the concept of ownership (not surprising for a generation raised with the Internet and downloading) and reclaiming blighted urban space. Thinking about those trends going forward, the potential of more economic downturn and this new data about unclaimed houses, and I can see a whole new way of living coming. Don't mortgage your life for a chance at the American Dream: just move in to the one that's already there.
Think about it. That's all I'm saying. Just think about it.